2022 Woolworths Junior Landcare Grants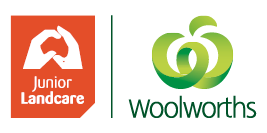 Grant:
2022 Woolworths Junior Landcare Grants
Number of Projects:
1,054
Applications Closed:
18 March 2022
Growing the next generation of environmental champions
2022 sees the fourth round of Woolworths Junior Landcare Grants awarded to primary schools and early learning centres across Australia.
1,054 projects have been funded this year, with native habitat, sustainable food production and recycling and waste management projects in the works and set to engage more than 100,000 students across the country.
The Woolworths Junior Landcare Grants were first launched in 2018 as part of Woolworths' ongoing commitment to a greener future. More than 3,800 projects have been funded to date, with children getting hands-on learning about our natural environment, and the important role they can play in its future.
If you're interested in finding out more about Junior Landcare, we have lots of great ways you can get involved:
Your students will love Costa's videos on our YouTube channel
Sign up to our newsletter to find out about new grants and resources
Check out the resources in our Learning Centre to help bring Junior Landcare into the classroom
You can read about all projects that have been funded through the Woolworths Junior Landcare Grants on our interactive map.
Australian primary schools and early learning centres (preschools, childcare centres and kindergartens).