Partner with Junior Landcare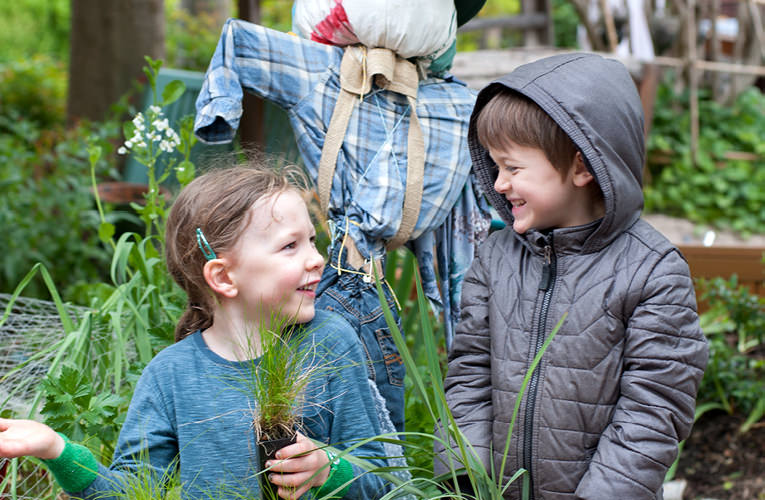 Creating the next generation of environmental leaders with you
Our partners help us provide children with an opportunity to become Aware of environmental issues particularly around the themes of biodiversity, food production, waste management, and First Nations perspectives; to be Empowered to take meaningful action for the environment; and to be Active in their local environment and local community.
Support from our partners enables us to offer thousands of grants to Australian schools, early learning centres and youth organisations.
Funding and in-kind support also helps us deliver other initiatives like funding for environmental sustainability projects, educational resources and Junior Landcare challenges.
For more information about partnering with Junior Landcare, please contact us on partnerships@landcareaustralia.com.au.
2020 & 2021 IMPACT
Your support makes an impact in local communities across Australia

Funding for Junior Landcare Grants

PARTICIPATING SCHOOLS, EARLY LEARNING CENTRES & YOUTH GROUPS

AUSTRALIAN CHILDREN PARTICIPATING IN JUNIOR LANDCARE PROJECTS
Benefits of partnering with Junior Landcare
National Program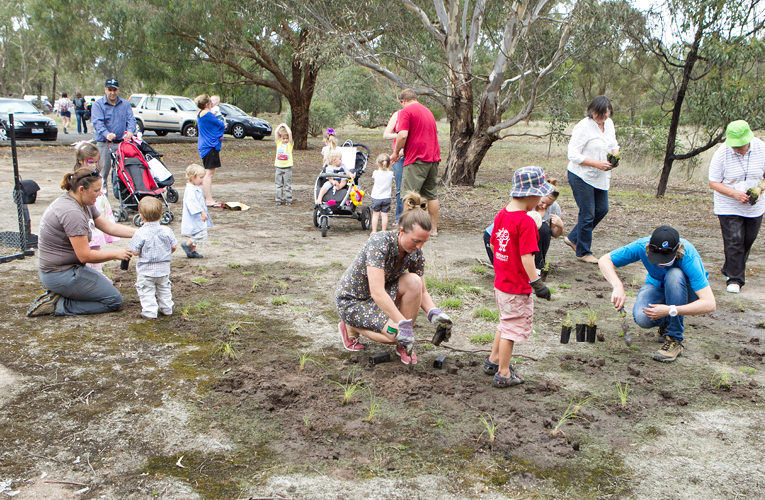 Junior Landcare is a national program
Our reach and diversity mean we can deliver projects in almost any location in Australia.
We regularly connect with over 12,000 schools, early childhood centres and youth groups across the country via our website and newsletter. We also share our news and activities with the Landcare community across Australia. We have delivered Junior Landcare grants for over 25 years, and have the expertise and experience in developing quality, hands-on grants programs. Learning activities we develop are in line with the Australian Curriculum and the Early Years Learning Framework.
Grow Your Business

Demonstrate your company's commitment to future generations by supporting a program that is committed to education and local communities
A Junior Landcare partnership offers positive brand positioning to target your preferred audiences(s). This may include preschools, primary or high schools, families, students, educators, youth groups, Landcare groups and other environmental community groups.
With marketing and public relations campaigns, a partnership with Junior Landcare helps your organisation build stronger connections between your business, local schools and youth groups as well as Landcare groups and other environmental community groups. Demonstrate your company's commitment to these UN Sustainable Development Goals (SDGs): 3. Good Health and Wellbeing, 6. Clean Water & Sanitation 11. Sustainable Cities and Communities, 13. Climate Action, 15. Life on the Land, 17. Partnerships to Achieve the Goals.
Community Impact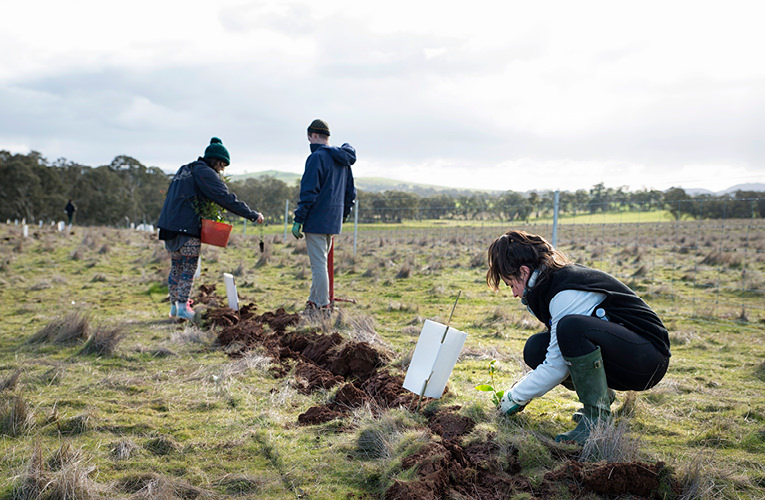 Environment, education, community wellbeing and resilience
The Junior Landcare program provides multiple benefits for all young Australians. Junior Landcare:
Encourages children to get their hands dirty and play an active role in creating a sustainable future
Helps children to develop skills, share knowledge and create experiences that foster connections with place and community
Supports children to share the responsibilities of working on a project together, for example – caring for vegetable gardens with planting, watering and ensuring plant survival
Brings together students, educators, parents, members of local Landcare groups and First Nations people to work together
Actively increases physical and mental health of participants of all ages through promotion of physical activity in an outdoor environment as well as empowering young people to take an active role in something meaningful.
Program Themes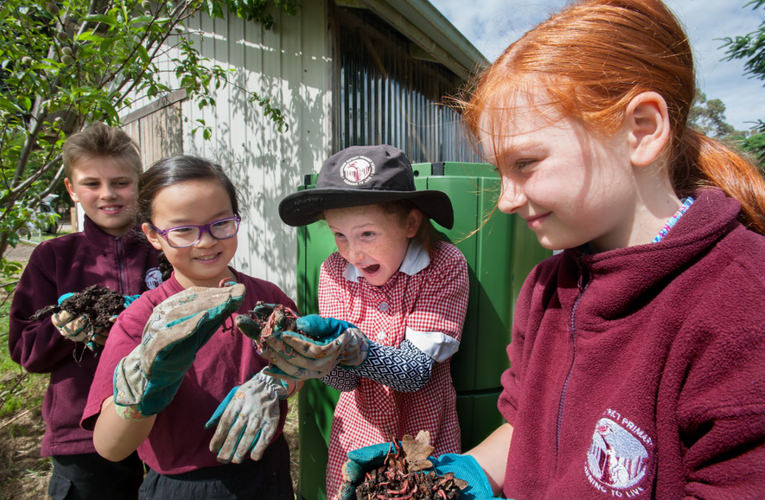 Junior Landcare program themes
Partners may choose to fund grants or educational initiatives with a focus on one or all of the below:
Sustainable Food Production: learning about plant lifecycles; understanding where our food comes from; creating vegetable, herb and bush tucker gardens
Biodiversity: learning about local ecosystems including plants, animals and soil; creating habitat for local plants and animals by planting local species, installing nest boxes or creating a fog bog, planting trees and shrubs and managing weeds
First Nations perspectives: learning about Indigenous seasons; Traditional land management techniques and Cultural heritage
Recycling and Improving Waste Management Practices: learning how to set up and manage compost systems and worm farms; or implementing the 4 R's (Refusing, Reducing, Reusing, Recycling).
We Meet Your Needs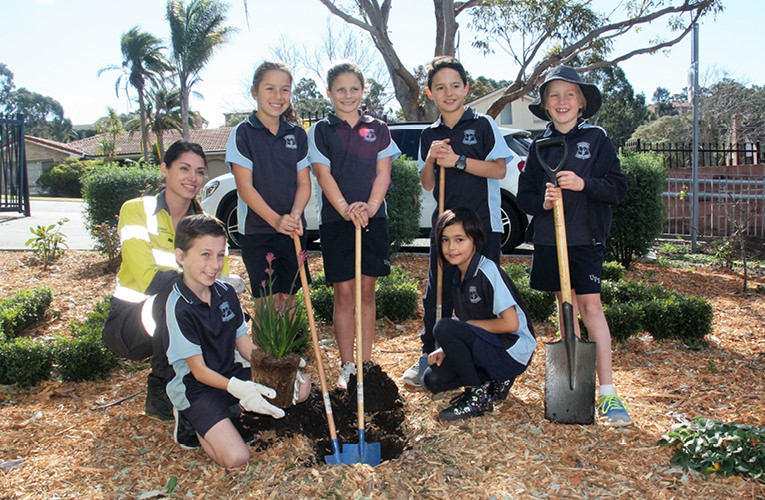 A valued partnership that meets your organisational needs
We tailor our partnerships to align with an organisation's business objectives including corporate social responsibility, sustainability and / or community support goals that are within your budget and reach your target markets.
A Landcare Australia partnership manager will work directly with you to support your key goals, and develop a mutually beneficial partnership plan that includes implementation and reporting. Our professional team develop innovative campaigns that will maximise your partnership outcomes. They include environmental project managers, grant delivery coordinators, and marketing and communications specialists. We will work with you to ensure your partnership with Junior Landcare will be impactful, provide tangible business benefits and will be communicated effectively to your target audience.
Other partnership opportunities



Junior Landcare is a major program offered through Landcare Australia. We have a range of partnership opportunities for the Landcare Australia, Junior Landcare and Coastcare brands. These include revegetation projects, sustainable agriculture projects and First Nations community environmental projects. We can also provide Cause Related Marketing opportunities with our brands. Your organisation can engage your staff by getting involved in the Workplace Giving and Corporate Environmental Volunteering / and other Employee Engagement programs.
Thank you to our partners
Become a Junior Landcare Partner