Creating your own potato chips: marketing
"These chips are so good that you can sell them" Eliza said to Beth after tasting the hot chips that Beth had made using rosemary and thyme, "my family would love to eat these!!!"
Eliza's comments were the perfect introduction to the next activity for the Junior Landcare group. Miss Gorman informs the group "We are going to market the hot chips you made. You are going to tell the community what it takes to make these yummy hot chips. Think about the love and care that went into growing the potatoes, and the ingredients you needed to make them taste fantastic. How can we get our families and friends to love and appreciate these hot chips even more than we already do?"
We are going to make an advertisement! In this activity young learners will produce a short (30-60 second) advertisement to promote their chips.
This learning activity is the final part of a sequence of 3 individual learning activities focused on creating your own potato chips. The order of these learning activities are: growing, cooking and marketing.
For children to:
appreciate the process of food production
identify the unique qualities of their produce
develop a plan to promote their product
use communication technologies to produce an advertisement.
This activity can be undertaken at any time of year.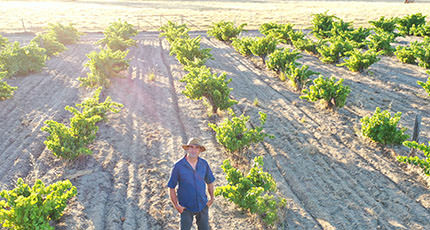 Did you know?
Each Australian farmer produces enough food each year to feed 600 people, 150 at home and 450 overseas.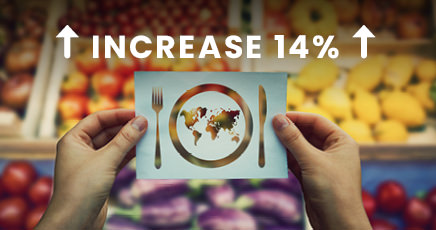 Did you know?
The global demand for food is expected to increase by 14% per decade.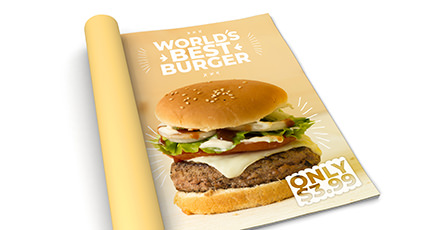 Did you know?
Kids watch an average of over ten food-related ads every day (nearly 4,000/year).  Most of them are for 'junk' food.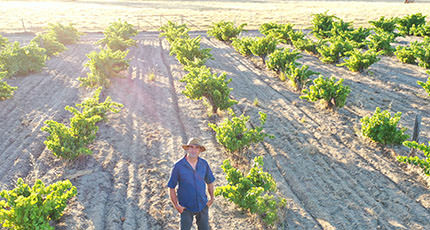 Did you know?
Each Australian farmer produces enough food each year to feed 600 people, 150 at home and 450 overseas.
Creating your own potato chips: marketing
Time allocation:30 – 40 minutes
Growing food for your own table is very satisfying. In this activity sequence, we are taking the concept of growing food one step further, to promote the produce that the young learners have created.
In the first and second parts of this activity, children grew potatoes and turned their produce into hot chips. In this final sequence, the young learners will consolidate their understanding of food production by creating an advertisement about their chips.
Printable activity sheets
Completed activity sheets from the first and second part of this activity sequence
Pencils and paper
Device for recording and editing devices, such as a tablet/iPad/etc.
Photographs taken from the growing and cooking activities
Video editing apps or software installed on the devices
Hats, sunscreen and insect repellent
First aid kit and allergy plans
Potato plants growing in the garden (optional)
Potatoes for use as props (optional)
Eating utensils for use as props (optional)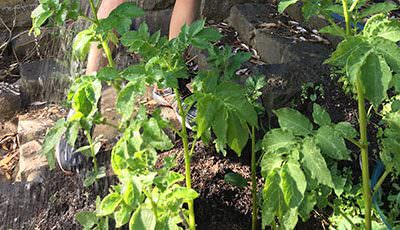 Step 1
Recap the first and second parts of this activity sequence, when the children grew and prepared their potato chips.
Tell the children that today, they will imagine that they have started their own potato chip company.  They will become the writer, actor and director of a TV commercial to advertise their potato chips. 
The commercial should include key messages about the care and dedication needed to grow that potatoes, as well as the experience of enjoying the finished product.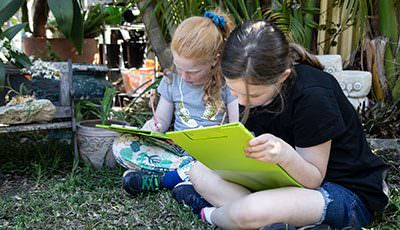 Step 2
Introduce the activity sheet.
Suggest that the process of growing the potatoes could be a unique selling point. 
As a whole group, identify the important parts of the process that will be promoted and create a shared list of these.
Use the activity sheet to plan the commercial on the storyboard template.
Remind the children to focus on both growing the food, as well as enjoying the finished product.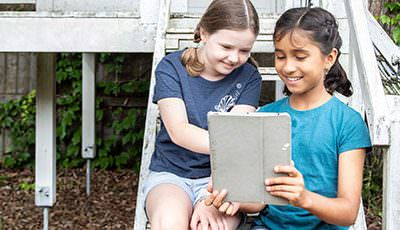 Step 3
In pairs or small groups, use your devices to record the advertisements.
Add the images taken during the first and second parts of the activity sequence to help illustrate the story of creating the finished product.
Use digital editing software or apps to create a 30-60 second advertisement for the chips.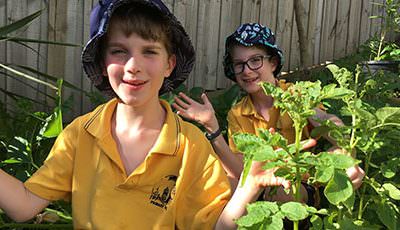 Step 4
Share your advertisements with your community through avenues such as online newsletters or social media posts.
Use the recording devices to create a guide about how to grow potatoes.
Ask the children to keep a record or a diary of every food advertisement they see on TV over the course of a week.  As a group, compile the results and discuss whether the advertisements were for natural, unprocessed foods, junk foods or fast food providers.  Discuss what this might mean for the health of consumers.
Curriculum and Framework Links
SCIENCE
Year 2: ACSSU030, ACSHE035
Year 3: ACSSU044, ACSIS054
Year 4: ACSHE062, ACSIS064
Year 5: ACSHE083
Year 6: ACSSU094, ACSHE100
Year 7:  ACSHE120
Year 8:  ACSHE135
HUMANITIES AND SOCIAL SCIENCES
Year 2: ACHASSI042
Year 3: ACHASSI052, ACHASSI059, ACHASSI060
Year 4:  ACHASSI080, ACHASSK088, ACHASSK090
Year 5:  ACHASSI102, ACHASSK120
Year 6: ACHASSI122, ACHASSI130
DESIGN AND TECHNOLOGIES
Year 2: ACTDEK003
Year 3 & 4: ACTDEP017
Year 5 & 6: ACTDEP019
Year 7 & 8: ACTDEK032
HEALTH AND PHYSICAL EDUCATION
Year 2: ACPPS018, ACPPS022, ACPPS023
Year 3 & 4: ACPPS036, ACPPS040, ACPPS041
Year 5 & 6: ACPPS054, ACPPS059
Year 7 & 8:  ACPPS073, ACPPS078 
ETHICAL UNDERSTANDING
Exploring values, rights and responsibilities.
PERSONAL AND SOCIAL CAPABILITY
CURRICULUM CONNECTIONS
CROSS CURRICULUM PRIORITY
MY TIME, OUR PLACE: FRAMEWORK FOR SCHOOL AGE CARE
Outcome 2 and 4
Access more resources and information about the importance of vegetables in children's diets through the Taste and Learn Program from the CSIRO.
PRINTABLE RESOURCES
Use the story board in the activity sheet to help plan your advertisement.
READ
Find out more about how advertisers of processed food tailor their advertisements to children in this article from Choice.
We value your feedback
When you have finished this learning activity, please tell us what you think with our survey.
Your feedback will help Landcare Australia improve the activities in the Junior Landcare Learning Centre.
Why not try one of our other Junior Landcare learning activities?
Love Letters to the Land
Biodiversity|First Nations Perspectives|Food Production|Waste Management
Creating a food garden: vision
Food Production
Creating a food garden: planting
Food Production
Creating a food garden: installing a no dig garden bed
Food Production