Creating a food garden: harvesting
STORY
Beth and her Junior Landcare group have been closely monitoring the seedlings they planted in their food garden bed. Eliza kept the plants watered and Hayley wrote daily observations in the planting journal. The Junior Landcarers made sure they kept the packets their seeds came in so they could compare their observations with the guidelines on the packaging. With much excitement and anticipation, the tiny buds started sprouting within the time frame. Beth and her group were excited as they knew that they would soon have produce to harvest!
While the Junior Landcarers waited for their plants to grow, the group decided to discuss what they would do with their harvest. Beth shared with the group that her family shares their tomatoes with the neighbours on a regular basis. Beth also said that once a month, she joins her mum going to a community swap where families bring fruits, vegetables and herbs that they have grown to swap with other families. Beth enjoys looking at the different types of produce that people grow in their gardens; attending this community swap is one of her favourite things to do.
The satisfaction of eating straight from the garden is one of life's best learning experiences and practically demonstrates the value of knowing where your food comes from.
This learning activity is part of a sequence of 5 individual learning activities focused on creating a food garden. The order of these learning activities are: vision, site assessment, installing a no dig garden bed, planting and harvesting.
For children to:
understand the steps in successful harvesting of a food garden
enjoy being active and productive outdoors and build their social and teamwork skills
follow the steps of plan, collect, clean and share
value the harvest and the benefits of sharing amongst the community.
Each plant will be ready to harvest at different seasons. Because local conditions will vary, it is best to observe and test your plants for readiness first. Use the advice on plant and seed packaging as well as garden guides to help with your planning.
Did you know?
In Australia, over 5 million tonnes of food ends up as landfill – this is equivalent to filling 9,000 Olympic sized swimming pools.
Did you know?
Potatoes are the most popular vegetable crop eaten in Australia. Potatoes appear on the plates on dinner tables everywhere and are commonly eaten as chips. 
Did you know?
One of the quickest vegetables to grow is a radish, it can be harvested after 25 days.
Did you know?
In Australia, over 5 million tonnes of food ends up as landfill – this is equivalent to filling 9,000 Olympic sized swimming pools.
Creating a food garden: harvesting
Time allocation: 30-40 minutes
Harvesting your produce at the right time will enable you to get the most out of it and ensure that you can reduce waste. Experiencing the value of growing your own edible fruits and vegetables and then sharing with the wider community, builds active, empowered and aware Junior Landcarers. This helps to build awareness of sustainable food production.
First aid kit, sunscreen, protective footwear, allergy plans
Collecting vessels – baskets or bags
Trowels or spades
Garden scissors
Gloves
Access to water
Watering cans or buckets
Buckets basins and containers for washing and storing produce
Colander
Paper bags
Soap or hand sanitiser
Paper towel or clean tea towels
Scales (optional)
Printable activity sheet (optional)
Clipboards (optional
Pencils (optional)
Device for taking photos (optional)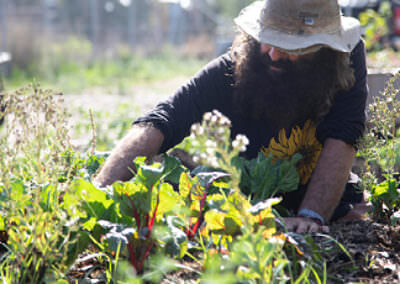 Step 1
Plan
Use your seed packaging and online garden guides, plus onsite monitoring to determine the best time to harvest your plants. Timing may vary, for example, you may need to harvest in your school garden before the summer holiday.
Ensure you have your collection materials ready and instruct the children how to collect the harvest safely. Wear protective footwear, use safe lifting procedures and look for spiky plant material and insects when harvesting.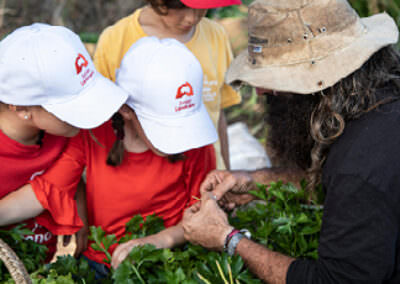 Step 2
Collect
Examine your produce for any disease or insect damage before harvesting.
Some leafy plants can be plucked so that you have the opportunity to have a second or even a third harvest from them.
Root vegetables may need to be pulled gently from the soil using a trowel or spade to loosen the soil.
Garden scissors can be useful to carefully cut fruits and leafy vegetables.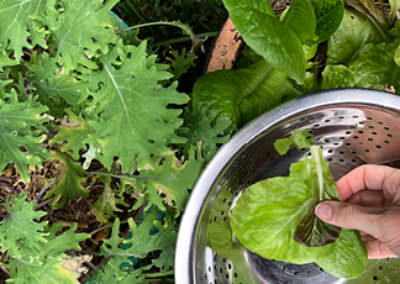 Step 3
Clean
Clean produce is important for healthy eating.
Make sure you wash your hands using soap or sanitiser before cleaning or eating your collected produce.
Once collected, use water to wash your produce. Using a colander, bucket or similar container will assist in the process.
Place your washed produce on a paper towel or clean tea towel can help collected produce dry off naturally.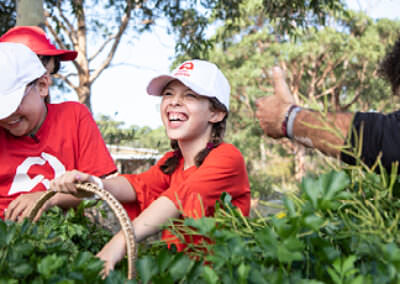 Step 4
Share
You may like to use scales to weigh your harvest before you divide the produce equally. Containers or paper bags will help to easily distribute the produce. Use the activity sheet to help children devise ideas to get the most out of their harvest.
Discuss:
What part of the plant have you harvested?
What uses can you find for your plant parts to avoid waste?
Look at ways you can share the bounty of a large harvest in your community.
How can you grow your food plants for next year? Discuss in groups the types of plants you have planted. How can you plan to collect the seed so you can plant these plants again next near? What steps will you need take? What else might you like to grow?
Explore some of the ways you can share your harvest with your community. How can this serve and help other people and build the Junior Landcare community?
Curriculum and Framework Links
SCIENCE
Year 2: ACSSU030, ACSHE035
Year 3: ACSSU044, ACSIS054
Year 4: ACSHE062 , ACSIS064
Year 5: ACSHE083
Year 6: ACSSU094, ACSHE100
Year 7: ACSHE120
Year 8: ACSHE135
HUMANITIES AND SOCIAL SCIENCES
Year 2 : ACHASSI042
Year 3: ACHASSI052, ACHASSI059, ACHASSI060
Year 4: ACHASSI080, ACHASSK088, ACHASSK090
Year 5: ACHASSI102, ACHASSK120
Year 6: ACHASSI122, ACHASSI130
DESIGN AND TECHNOLOGIES
Year 2: ACTDEK003
Year 3 & 4: ACTDEP017
Year 5 & 6: ACTDEP019
Year 7 & 8 ACTDEK032
HEALTH AND PHYSICAL EDUCATION
Year 2: ACPPS018 ACPPS022, ACPPS023
Year 3 & 4: ACPPS036, ACPPS040, ACPPS041
Year 5 & 6: ACPPS054, ACPPS059
Year 7 & 8:  ACPPS073, ACPPS078
ETHICAL UNDERSTANDING
Exploring values, rights and responsibilities
PERSONAL AND SOCIAL CAPABILITY
Social awareness
CROSS CURRICULUM PRIORITY
Sustainability
MY TIME, OUR PLACE: FRAMEWORK FOR SCHOOL AGE CARE
Outcome 2 and 4
ONLINE RESOURCES
Download the Gardenate app or use the Gardenate website to help determine the timing of harvesting your plants relevant to your climate zone.
Use this Australian City Farms and Community Gardens Network map to find a City Farm or Community Garden near you to get some ideas for your food garden.
This harvesting vegetable checklist provides ideas on how to determine if your vegetables are ready for harvest.
WATCH
Be inspired to start a food waste initiative with this 6 minute story from Gardening Australia about how a school and community garden collect food scraps every Friday to build a communal compost.
Get some tips on how to have second harvests from your food garden and share with the community in this 3 minute video from Gardening Australia.
This instructional video from GrowVeg in the UK will give you insights on how to harvest different food crops and pick when it is ripe and ready.
READ
Outdoor Classrooms: a hand book for school gardens. Authors: Carolyn Nuttall & Janet Millington is a valuable printed resource for school garden development and learning.
Just for Kids
Check out our fun activity Harvesting the garden spot the difference.
We value your feedback
When you have finished this learning activity, please tell us what you think with our survey.
Your feedback will help Landcare Australia improve the activities in the Junior Landcare Learning Centre.
Why not try one of our other Junior Landcare learning activities?
Love Letters to the Land
Biodiversity|First Nations Perspectives|Food Production|Waste Management
Creating a food garden: vision
Food Production
Creating a food garden: planting
Food Production
Creating a food garden: installing a no dig garden bed
Food Production