The Educator Hub is now live
Educator Hub the place to be
The wonderful new Educator Hub is now live and provides a place for educators to connect and share experiences with others. Please explore and enjoy. Look to the educator notes for support material to help implement each learning activity as well as background materials on our learning and engagement approach, and ways to connect with others. Connect here to our growing online Landcarer group that aims to connect those working in schools and communities with the Landcare groups around them.
Student voice at Junior Landcare tree planting event.
A school tree planting event held in Townsville in October with support from South32 has helped to inspire and support students into developing their environmental skills.
Students planted trees with specialist advice from Coastal Dry Tropics Landcare as well as participating in yoga and making paper seed shapes. Local Aboriginal leaders from Wulgurukaba Walkabouts inspired students to connect to and respect Country and the importance of continuing global stewardship.
The highlight of the day for many was the sharing session where students from St Benedict's Catholic School shared insights on the development of their new butterfly garden and connected with peers from Ryan Catholic College to help motivate their own environmental projects.
NAIDOC Week 2020
This week we acknowledge NAIDOC Week 2020 and the theme Always Was, Always Will Be that recognises that First Nations people have occupied and cared for this continent for over 65,000 years.
Celebrate Aboriginal and Torres Strait Islander communities and culture this week and every week. Acknowledge the Country you are on and build your own knowledge and those in your care of Aboriginal and Torres Strait Islander culture.
Frogs providing environmental inspiration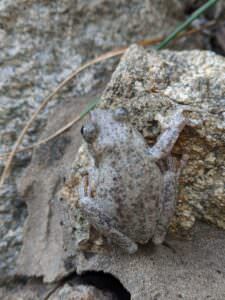 Mona shares her story
Hi, I'm Mona and I have been very fascinated in frogs since I was little. I started creating small frog habitats in my backyard and this kept going until the habitats got bigger until I converted my pool into a frog habitat. I have been multiplying the Peron's Tree Frog and Striped Marsh frog numbers for more than a decade. I can't help myself but collect the frog eggs from my pond and transfer them to my pool. Now my backyard sounds like a crowd of frogs and I love it!
Mona is certainly a great role model and we encourage you to explore the Creating a frog-friendly habitat learning activities to learn more about frogs and creating their habitat.
We welcome your stories shared via our Junior Landcare website by submitting them here.