Two (Green) Thumbs up for the Garden Club
Every Monday lunch time, members of the Garden Club at Chalcot Lodge Primary School in Victoria get together – digging, harvesting, and gaining a great sense of purpose and satisfaction through their gardening activities.
Started by one of the teachers and avid gardener, Catherine (Cathy) Bracegirdle, the Garden Club was extended to include therapeutic gardening in 2021, bringing on board horticultural therapist Tanya Bearup to provide an opportunity for more students to engage in gardening to improve their social, emotional and physical wellbeing.
"The students achieved this through cooperatively gardening together, being outside and learning new skills," shares Tanya. "I am delighted by the energy, enthusiasm and passion for the environment and gardening that the students brought with them into the garden space.
At Garden Club, students are able to prepare and tend to the garden beds by weeding, turning over the soil, adding nutrients through composting and fertilisers and learning how to mulch.
"They also sow seeds and plant seedlings. Some of their favourite activities include digging and harvesting as well as watering the garden," adds Tanya. "Students also love finding the worms in the healthy soil they have helped prepare and especially in our new composting system and worm farm."
When asked what they wanted other children in Australia to know about getting outdoors and being able to get hands-on with their local environment, some of the Garden Club's young participants shared:
"If you can learn to garden at school, you can then garden at home."
"We have to look after trees because they are helpful and help us breathe. If we don't help them they will get sick and go away."
"If we plant more food we have more healthy food to eat instead of junk food".
"When I have nature all around me, I feel relaxed. It makes me calm down when I have lots of stress & feelings happening".
"Actively working in the garden and contributing to the health of the environment can reduce the climate anxiety that so many children feel," says Tanya.
In addition to supporting student wellbeing, a gardening program is also a valuable resource when it comes to teaching important transferable skills.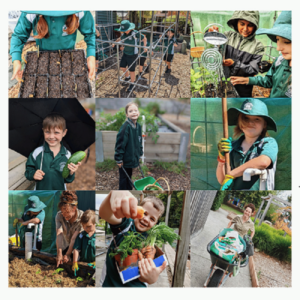 For example, a gardening program provides an activity that is fun to do together to accomplish big tasks through negotiation and cooperation in a safe space. Older or more experienced student gardeners are able to 'buddy' with younger students and teach them how to do simple tasks. "This encourages peer to peer learning," explains athy "It also fosters rapport building between teachers and students as they engage in conversation 1:1 in a relaxed collaborative environment." 
"A designated garden space in a school provides a calming area that can be utilised by education support staff to support students having difficulty integrating during class time. Grounding and sensory activities can be undertaken to help students who may be feeling overwhelmed or needing emotional support." –  Tanya Bearup, Horticultural Therapist
With the participants of the Garden Club eager to return to their garden space week after week, Tanya is continually encouraged and inspired seeing first-hand the delight and benefits of getting children hands-on with nature.
"Supporting children to engage with nature is a powerful evidence-based intervention to improve mental health and can provide them with an enduring tool to support their on-going wellbeing."
Do you know a young person or group making a change for the environment? Email enquiries@landcareaustralia.com.au and let us know what actions they're taking for a chance to win them a $100 Woolworths Gift Card and so we can feature them on our website and in the Junior Landcare newsletter!