Teen Sea Hero's Mission to Combat Ocean Pollution
Sixteen-year-old award-winning marine conservationist, Shalise Leesfield is making a splash in her local town of Port Macquarie in NSW to help protect ocean waters.
Since founding Shalise's Ocean Support at the age of 11, Shalise has been calling for schools to go plastic free and campaigning for ocean conservation. Her achievements include being named the youngest Hope Spot champion by Sylvia Earle, delivered many inspiring presentations including a TEDx talk and invited to join diver Philippe Cousteau's Australian expedition.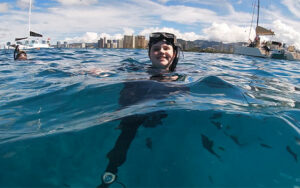 Shalise's mission for ocean conservation started at a young age. She explains: "My deep connection with the ocean is the driving force behind my campaign to help restore and protect the incredible world beneath the waves. When I was around nine years old, I became aware of the discarded fishing line and rubbish I kept finding around my local waterways so it became my mission to clean up the ocean to protect the marine animals."
Concerned about marine debris problem in her community, Shalise collected data and used her voice to address the issue and helped secured the $77,000 EPA litter grant with her local council to bring fishing tangler collection bins for marine litter and discarded fishing line.
In late 2022, Shalise was awarded the Sea Hero of the Year for her conservation work over the past nine years and is using the award money to fund her ocean project in partnership with 'Living Seawalls'.  The initiative is to help the future of her hometown's urbanised coastline, where man-made marine construction has negatively impacted living organisms.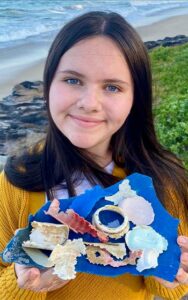 Living Seawalls will create 3D marine habitats by installing artificial marine built structures in the form of a tile and retrofitted onto existing seawalls, simulating a natural shoreline ecosystem, which has been successfully installed on existing walls in Sydney Harbour and shown to support at least 36% more species.
Shalise believes in making positive action to help care for the environment. "Human hands have caused a lot of habitat loss in the ocean with artificial structures interrupting the eco systems beneath the surface," she says. "However, these same hands have the ability to promote regeneration and renourish urban marine environments and biodiversity with these sea-life affirming seawalls tiles."
When asked what she wishes other young people out there knew about acting for the planet, Shalise responded "It doesn't matter what age you are or where you live, every single one of us is a part of the planet and it's important that our generation joins together to help protect it, as our future depends on the things that we do today. If you see an environmental issue in your local community don't be afraid to speak up and ask an adult for help to solve the problem.  You might think that it is only one small change that you are making but it really can make a world of difference."