Empowering Students: Shiloh's Simple but Sensational Approach to Environmental Education
"We all need a Shiloh in our community," says Karlisa Smy, educator at Gisborne Montessori School (GMS) in Victoria, where Shiloh Ritchie serves as the Sustainability and Environmental Coordinator. "He has done so much, I almost can't remember it all; for example, he has applied for grants; coordinates all the students in his SUSTAIN ABLE team; shares updates at assemblies and co-ordinates events. He even has a SHAREPOINT newsletter, with surveys, quizzes, resource lists and new documentaries we should watch."
As part of the school's Sustainability and Environmental Program, 12-year-old Shiloh also drives an ongoing project called Sustain Able – a monthly activity about Sustainability and the Environment run by students for students and held with every class.
More recently, Shiloh set up at Junior Landcare group at GMS – a 100% student empowered school that has only two guides/teachers on its Action Team. We caught up with this Junior Landcarer in Action for his top tips on how to run successful sustainability projects in schools and what has inspired him to take action for his local environment.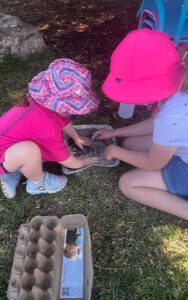 What is the project you are most proud of and why? 
I am probably the proudest of the GMS Sustainability and Environmental Program itself, because this started in 2019, crumbled as COVID forced our school online, and then was abandoned. Richard (a teacher at our school) and I rebirthed the project and started it as a small side project. The project has since turned into a whole school program and is a major part of GMS. We have written a scope and sequence and are working on an action plan.
What inspired you to get involved with sustainability projects? 
My mum, Rebekah Ritchie, is an ecologist by trade, and is the current facilitator of the Upper Campaspe Landcare Network. This involvement with the environment was the spark that started my enthusiasm for the environment and sustainability.
What would you like other students across Australia to know when it comes to taking care of the environment?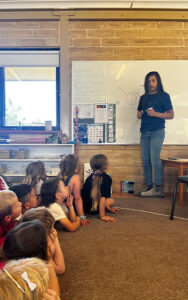 Save the planet, but do one thing at a time and use the KISS strategy. KISS (Keep it Simple Stupid) – my idea of the KISS method in a Sustainability and Environmental project is that you don't need to make everything super technical and scientific. One thing at a time! Avoid a cluttered mind by doing only one thing at a time. This is hard, and I am very much guilty of doing too many things at a time, but if you can, do one thing at a time.
Can you share a simple idea or project people can try at their school or home that would contribute to taking care of the environment? 
I believe that you should start by educating and engaging students and the community in the environment and areas of sustainability, as this increases the amount of people who will grow up wanting to protect our home. Another great, simple idea is to become a Junior Landcare Group – there are soooo many benefits to becoming a Junior Landcare Group, but if I went into that here, you would be reading for many hours.
Do you know a young person or group making a change for the environment? Email enquiries@landcareaustralia.com.au and let us know what actions they're taking for a chance to win them a $100 Woolworths Gift Card and so we can feature them on our website and in the Junior Landcare newsletter!