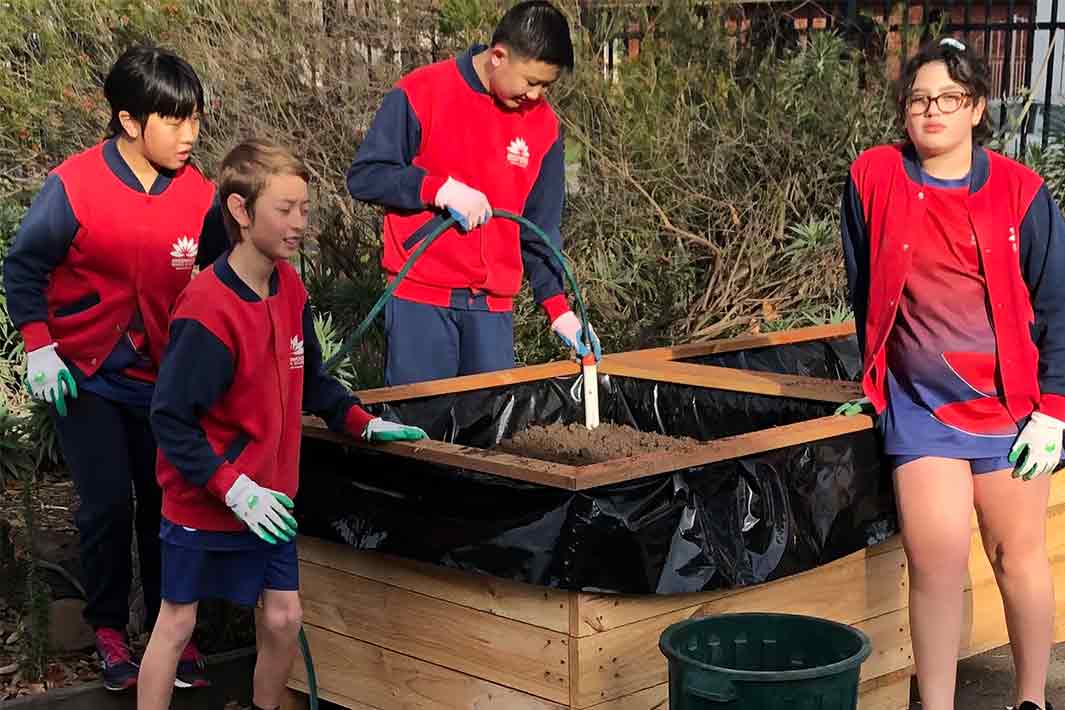 Grant Name: 2021 Woolworths Junior Landcare Grants
School: Kingswood Primary School
Grant Sponsor: Woolworths
Project Overview:
A 2021 Woolworths Junior Landcare Grant provided funding for Kingswood Primary School in Dingley Village, a Melbourne suburb, to create four new wicking beds and plant them with vegetables. The beds flourished with produce, ready for harvest for when students returned to onsite learning in Term 4, 2021.
Students were involved in getting the wicking beds up and ready for planting. They moved scoria into the beds, laid the geothermal fabric on top and filled them with soil.  Overall, the students overall enjoyed filling the beds with the appropriate materials, were fascinated with the reserve and how the overflow worked.
Environmental and Educational Outcomes:
The wicking beds will reduce the school's water usage dramatically. After only a couple of months, the beds were already flourishing with produce to be used in the kitchen and scraps fed to the school's chickens. The Kale planted will be eaten by students, used as a food source for insects and as a natural pest deterrent to protect other produce growing. They are also leaving some of the Kale to flower to encourage the bees to come and assist in our new beds.
The 160 students who participated in the project learned valuable insights about planting food in a water-wise and sustainable way.
They particularly enjoyed being part of the building process, constructing beds, filling them with water and seeing how the overflow pipe worked. One student commented that he loved the discussions around how heavy the bucketing of the scoria and soil was and learning what muscles they were using.
Conclusion:
This new space will bring more of a connection to the kitchen classes. One of the teachers overseeing the project says, "We have shared across all the students how wicking beds are a way of reducing water and being more sustainable. The gardens themselves are already planted out and providing a beautiful environment of fresh produce ready for harvest for when students and families are back on site."