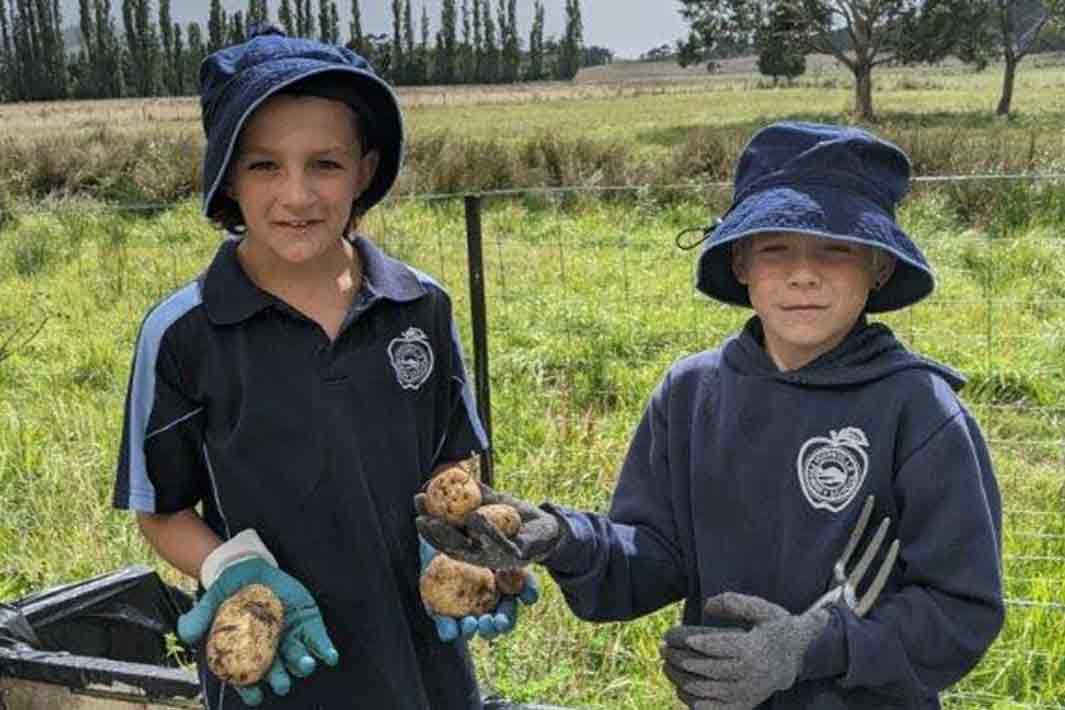 Grant Name: 2021 Woolworths Junior Landcare Grants
School: Huonville Primary School
Grant Sponsor: Woolworths
Project Overview:
Huonville Primary School had a vegetable garden but it wasn't flourishing. When they were successful in receiving a 2021 Woolworths Junior Landcare Grant, students and teachers were excited to implement a project to improve the soil structure of their vegetable garden by increasing the height of garden beds, applying more animal manure and potting mix. This prep work, would enable them to then plant seasonal appropriate vegetables and pollinating flowers to increase productivity.
Forty students used timber sleepers to construct raised garden beds. Their favourite part of the project was planting the vegetable and flower seeds in the garden and watching them germinate.
They also enjoyed mixing together clay and sand with their bare hands, stuffing it into a tin cylinders and poking small holes in it for native bees to hopefully nest in.
Environmental Outcomes:
By planting many bee friendly attracting flowers and making the bee hotel, the students made this a garden full of pollinators. They planted 200 vegetable plants, 40 herbs and flowers and 30 native plants. The school continues to compost weeds and food scraps to fertilise the garden.
Educational Outcomes:
Participating in the vegetable garden project taught students about the importance of inputs and outputs and how the lifecycle links into this. Checking soil PH with a testing kit, feeling the soil to test its friability and abundance of invertebrates and looking at what seeds need to germinate and what plants need to be healthy, all contributed to their knowledge of biological science.
Eating directly from the vegetable garden and cooking using produce from the garden, as well as sitting down together to eat meals and discuss how the project was going, were important personal, social and community health aspects of this project for the students.
Conclusion:
"This project gave our school the opportunity to expand our vegetable garden beds and attract more pollinator insects to our garden," said Basil van Riet, Artisian HOL (Hands on Learning) Teacher.
Olivia, a Grade 4 student, said "I love picking the fresh parsley and chives and putting them in my cheese toastie to eat for lunch.
Because of this project, students now have a greater appreciation of eating fresh produce from the garden and have become more relaxed and calm in each other's company when working outside in the fresh air completing hands-on activities.