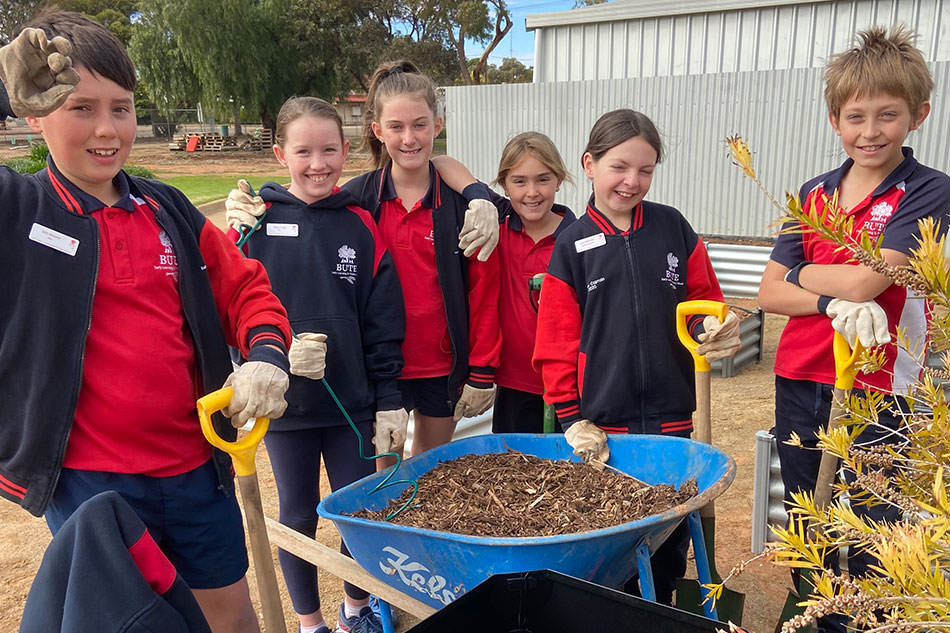 Grant Name: 2019 Woolworths Junior Landcare Grants
School: Bute Early Learning and Primary School (SA)
Grant Sponsor: Woolworths
Project Overview:
The vegetable garden at Bute Early Learning and Primary School had been removed due to construction. Therefore, students at this regional South Australia school were happy to receive a Woolworths Junior Landcare Grant to fund a new vegetable garden and the creation of sustainable waste reduction.
After much planning, the students very excitedly began the process of constructing the raised garden beds. Later, this involved the students filling the beds with soil in readiness to sow their first round of fruits and vegetables. To ensure they planted fruits and vegetables that everyone would enjoy, the Upper Primary class surveyed students in all classes to ascertain their preferences
Environmental Outcomes:
Before this project, all of the school's organic waste (food scraps etc.) ended up in landfill. Now, they have a wonderful compost bin, complete with 500 worms, that repurposes this organic waste into beautiful food for the sustainable garden. Students collect and use food scraps as compost etc. Some of the vegetable scraps are also used to feed the school's chickens.
Educational Outcomes:
The students developed a plethora of skills and knowledge that have resulted in this project being successful. Students learned about measuring and mapping out the location for the garden, calculating area and perimeter of this space, researching the materials and equipment needed to develop a garden and developing a budget.
Learning included skills and knowledge specific to sustainability and developing gardens, as well as a number of Mathematical and interpersonal skills.
There will be numerous outcomes and new learning for the students as the garden continues to develop. This will include looking at nutrition and cooking skills, continuing to research practices to ensure the garden is sustainable, grows and thrives, as well as looking at plant life cycles through sciences.
Conclusion:
Following the project, students reflected on the skills and knowledge they developed and on their favourite parts of the project. Many commented that their favourite part was working with each other to plant seeds and seedlings and constructing the compost bin. Numerous students also commented that they are looking forward to tasting some of the many fruits and vegetables they help to plant.
"It has been wonderful to see the students engage in such a meaningful and authentic learning experience which has resulted in a positive outcome for our school environment," said the teacher overseeing this Sustainable Food Garden project.