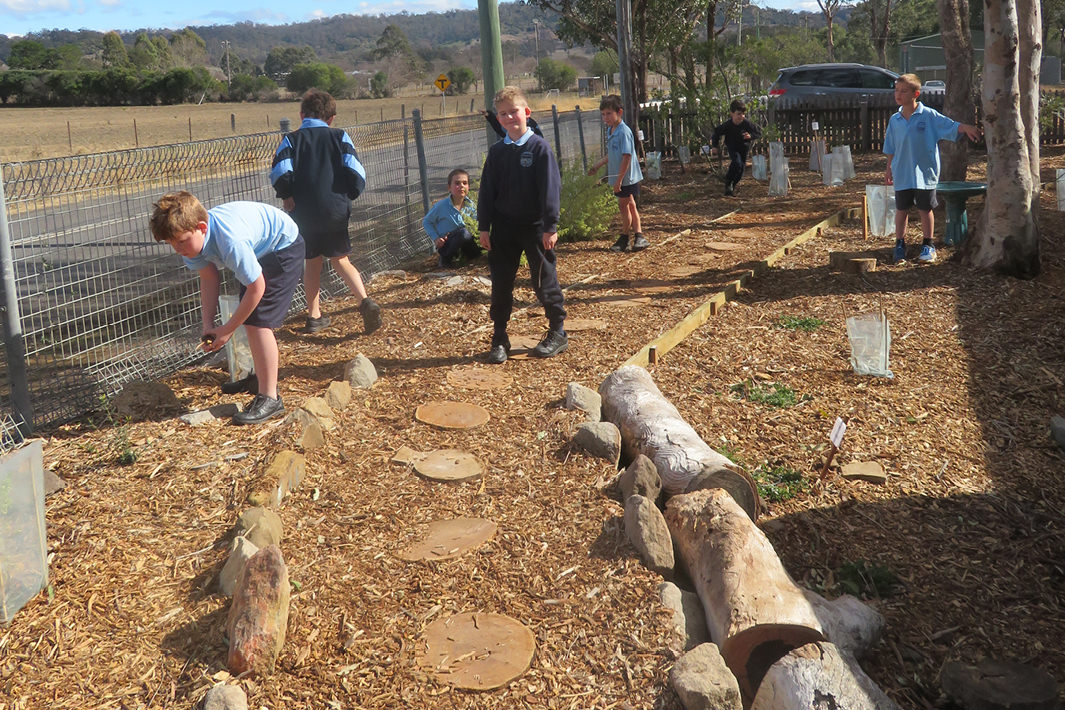 School: Cawdor Public School
Cawdor Public School is a small school situated in a beautiful rural setting close to Camden in NSW.
They wanted to enhance and restore an area running along the front fence of the school that was a mixture of dying wattle trees, three African olives, a peppercorn and a few eucalypt trees.
So, in 2017, armed with a South32 Junior Landcare Enhancing Habitats Grant of nearly $5,500, 45 students led by teachers, rolled up their sleeves and started planning and working to turn their vision into reality.
Working as a team, everyone helped with picking-up sticks and clearing the site. The children enjoyed digging out the path, measuring and learning new skills of building, using wood, drills and screws in the construction of the path edges.
They cleared and weeded the area, made a mulch pathway through the centre, and conserved local biodiversity by replanting with local native flora and indigenous bush tucker plants and trees, to make a nature trail. The Barragal Landcare Group volunteered practical help with clearing and planting along with school community parents during working bees.
"The students have loved the sensory experience of handling plants, teasing out roots, digging holes, planting them carefully and watering. Checking the plants as they grow, has given them a feeling of success," said the school's Year 1-2 Teacher.
Working on this project, helped the students to understand about native plants and traditional uses of the land especially bush tucker and the habitat of native animals. They also learned about the cultural significance of the local indigenous people and their tie to the land.
The students are learning that all life forms are connected through ecosystems on which they depend for their wellbeing and survival.
During the course of the project, teachers and students discovered first-hand that unexpected environmental and human factors can impede the progress of a project and disrupt the time frame. As an example, they encountered brown snakes in the summer and in winter, found that frosts can damage new plantings.
The school received many locally grown seedlings and advice on positioning and plant care from the Wollondilly Council Plant Nursery, with Mt Annan Botanic Gardens suppling native plant information.