Seed to plate organic garden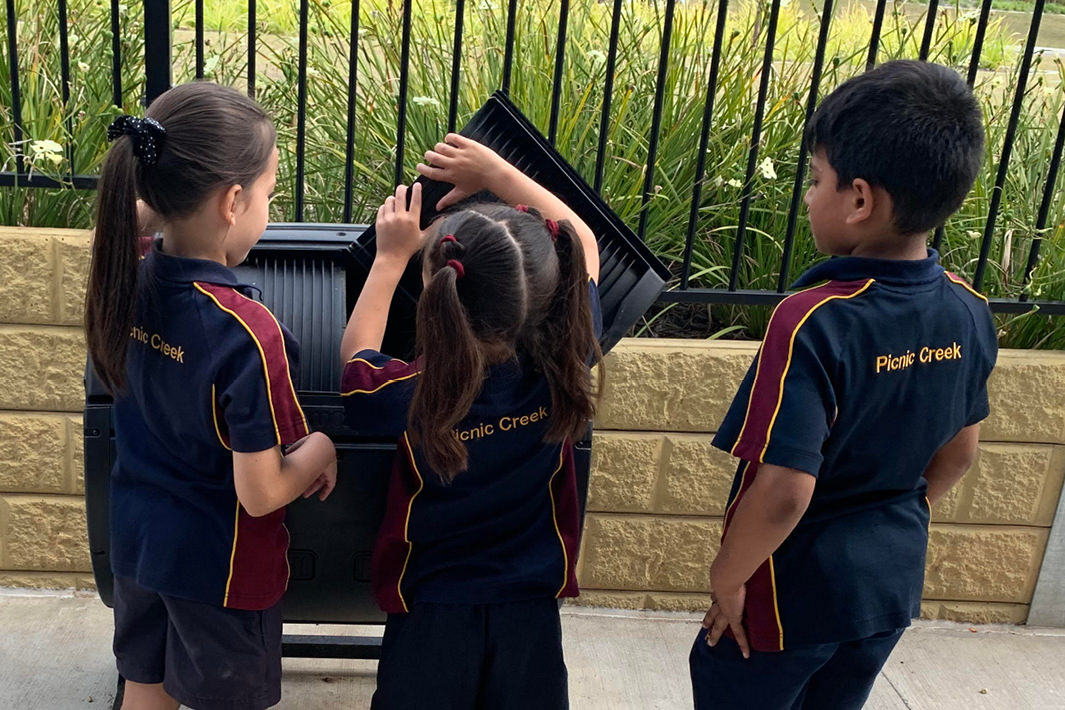 School: Picnic Creek State School
Grant Sponsor: Woolworths
Project Overview:
Students at Picnic Creek State School developed a closer connection to their natural environment via their Seed to Plate Organic Vegetable Garden project. Located in Coomera, a Gold Coast suburb in Queensland, the school used a Woolworths Junior Landcare Grant to help fund the expansion of their existing garden.
Children who were involved with the garden, learnt how to grow and enjoy their own fruit and vegetables using sustainable practices. Together, they created and enjoyed meals made from the produce they originally planted as seeds. To help reduce food waste and enrich the soil, they also expanded their composting activities and introduced a worm farm.
The organic vegetable garden and its related activities brought students closer together. It strengthened peer-to-peer bonds – as well as those with the wider community. Parents were also involved, helping to maintain equipment such as the hydroponics unit. The school used its growing experience and confidence to think further afield – making connections with the local community garden, local rehabilitation organisations, local aboriginal traditional land owners, and beyond.
The seed to plate project will continue to drive new initiatives at the school.
A leadership team of Year 5 students is training to take over management of the garden. This will ensure the transfer of knowledge for the future and cement a sense of student responsibility and ownership. They eventually hope to increase the productivity of the garden to the point of surplus, which they intend to sell to school community families.
Environmental Outcomes
Students were able to observe small pollinators attracted to their organic vegetable garden. These were encouraged by their tomato plants, herbaceous leaves, and complementary flowers, such as marigolds.
Picnic Creek State School students were so inspired by what they observed in their garden, that they have decided to build a bug hotel. In addition, they hope to plant more bug and bee friendly flowers. These activities will increase the numbers of useful bugs and pollinators in the garden.
Over the course of the project, the school has expanded its food waste reduction activities. Children throughout the school developed an enthusiasm for composting activities, including the worm farm. The school is now looking to buy an additional compost tumbler. These activities culminate in a rich addition to the soil – strengthening the sustainable nature of the garden.
Educational Outcomes
Connections to important aspects of the Curriculum were made throughout the seed to plate project. In particular, the children enhanced their scientific learning. They observed the lifecyles of plants, and studied the habitat of bugs and insects in action and up close.
The organic vegetable garden project also supported improved personal and social health. Students enjoyed spending more time outdoors, and were encouraged to expand their tastebuds – sampling food they had previously never - or rarely - eaten.
An improvement in social health was evident in the way students worked cooperatively and independently on new and challenging tasks. They learnt that some tasks needed more than one person to complete, such as: turning the compost tumbler, lifting watering cans, and managing the worm farm.
Conclusion
A Woolworths Junior Landcare Grant helped improve the connection between Picnic Creek students, and their environment, their health and their community.
Students showed a lot of enthusiasm for the activities associated with their organic vegetable garden. Their favourite aspect of the gardening experience though, was sharing a meal together. They ate rosemary and thyme on potatoes with garlic and declared it "so delicious!" They ate pizza with fresh basil, oregano, onion and cherry tomatoes - and despite initial trepidation - all the students loved it and the pizzas disappeared in minutes.
"In this busy age, it is so easy to spend less time outside, to never grow a plant from seed or nurture a seedling and see it bloom, or grow into a tall tree, or grace our dinner table. Our small garden, in a small way helps to reconnect children as active participants in the natural world. It's so important." Picnic Creek State School Teacher.