Recycling up the library bins!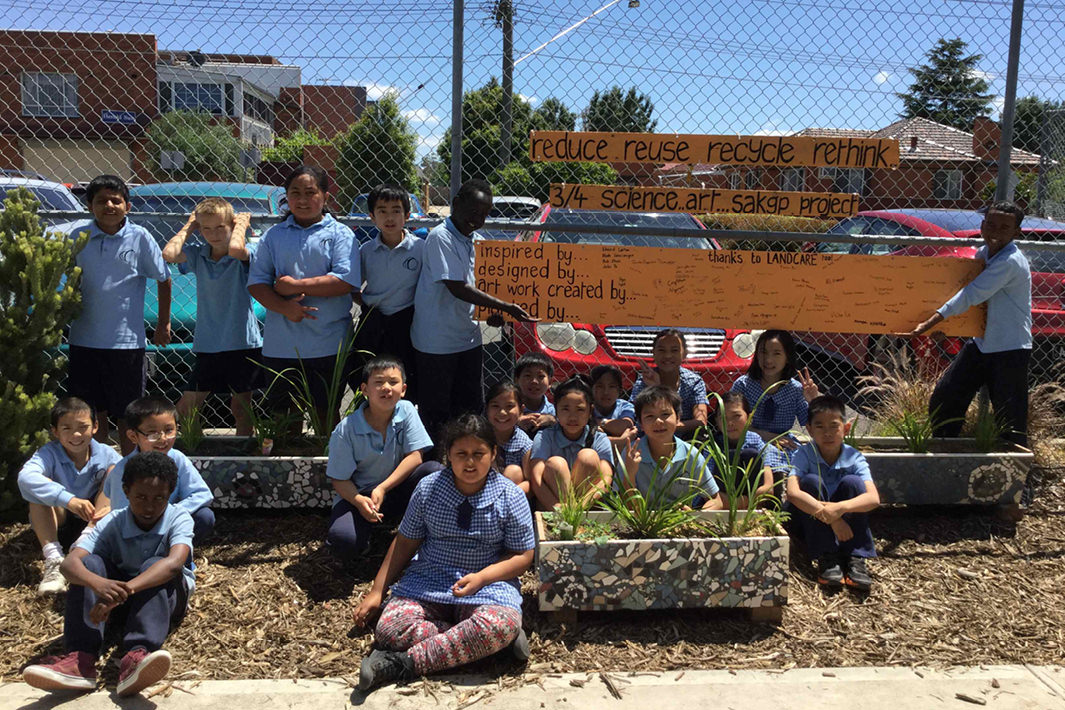 Grant Name: 2021 Woolworths Junior Landcare Grants
School: St. Albans Heights Primary School
St. Albans Heights Primary School in the Western Suburbs of Melbourne has a population of 270 students with over 30 language groups represented. As part of the Junior Landcare program, the school revitalised a notoriously barren area of the school with mosaiced garden beds and native or flowering plants.
The starting point for the project was a number of library tubs which were to be placed in landfill. The students decided to reuse the tubs and turn them into garden beds. Old fence palings and recycled timber from the art room were used to created signage for the garden. Students used leftover tiles to mosaic the tubs. As a result, the school reduced the amount of items placed in landfill and taught the students how they can make a positive impact on the environment by using old things to create something else.
Art was incorporated into the project through the design of the garden beds. Students used colour theory principles and indigenous symbols to create a design to mosaic on the outside of the tubs. A range of natives and flowering plants were selected for biodiversity and aesthetic qualities. The students enjoyed participating in all aspects of the project, and were proud of their achievements. The highlights for the students were mosaicing the tubs and planting the gardens.
The project has kept the concept of Reduce, Reuse, Recycle and Rethink in the minds of the students. They continue to talk about the project and are aware of the positive impact the creation of the garden beds have had on the environment. This is both through the reduction of landfill and increasing the biodiversity in areas of the school which previously struggled to grow plants. Students worked collaboratively to complete the project, which was unveiled to the school community at the school art show.
"Reduce, Reuse, Recycle, Rethink at S.A.H.P.S."