Natural bush area upgrade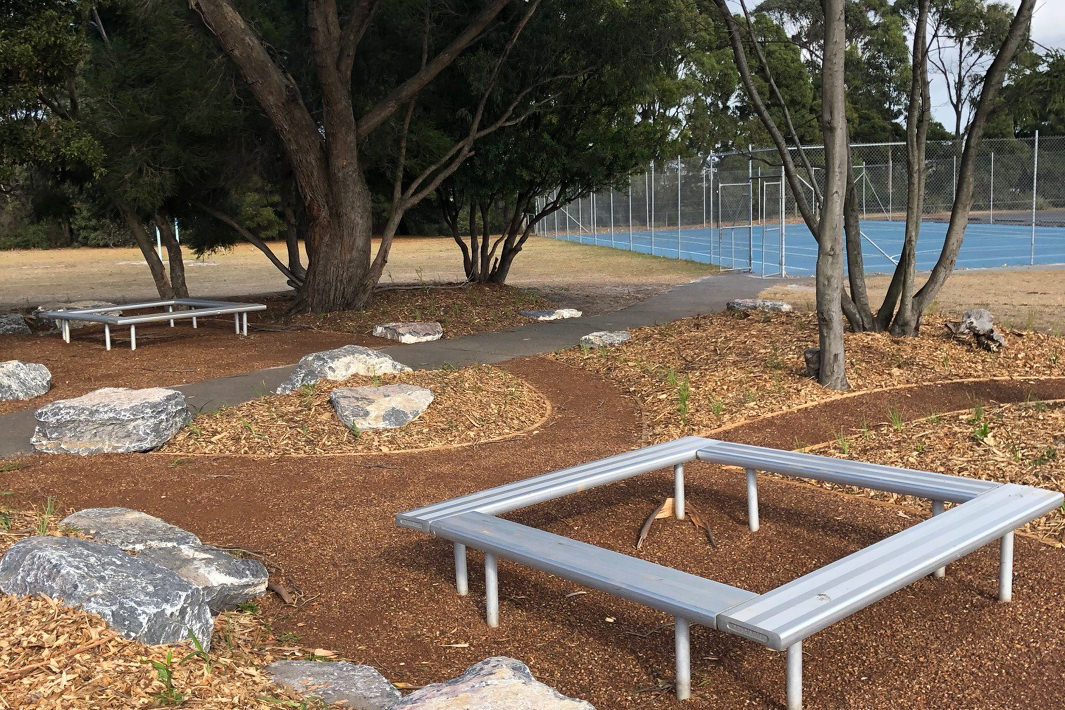 Grant Name: 2018 South32 Junior Landcare Grants
School: South George Town Primary School
During its 50th birthday celebrations a couple of years ago, the South George Town Primary School community reflected on old photos of the school grounds, noting a marked reduction in native plants. This was mainly caused by previous storm damage and impacts from students over the 50 years. As a result, the school had lost valuable native play areas and shade to protect them from the sun.
Located in northeast Tasmania, South George Town Primary is a small school that is fortunate to be surrounded by bush. The school had previously received grants to plant natives in the natural bush area alongside the school boundary known as Wombat Walk. As part of this project, signage and nesting boxes were installed. At certain times of the year, this area is full of students looking for insects and enjoying the natural shade
The school wanted to upgrade this natural bush area so that more children could benefit from natural play and connect with the environment. They had an idea for a project to add natural seating areas in the form of boulders and logs to compliment the man-made seats that were already located there.  Support for the idea was reinforced as students had witnessed an echidna moving through this area, realising that adding boulders and logs would provide hiding places for such fauna.
To make this project a reality, in 2018, the school applied for a South32 Junior Landcare Enhancing Habitat Grant.  Their application was success and with $4,700 in funding, the school set about implementing their Echidna Way project with the aim of enhancing the play area to allow pupils to enjoy and engage with local fauna.
Environmental, Educational and Social Outcomes
With the planting of so many native trees, grasses and shrubs, the local biodiversity of this bush area on the school grounds has improved.
The positioning of Echidna Way has proven to be the perfect spot for classes working on a science unit titled "Living Things". Students have the opportunity to investigate the native habitats of insects in this area.
The process of planting native plant species and caring for the area has provided students across the school with an opportunity to learn about what is required to sustain life. Echidna Way has also provided an opportunity for students to spend time together in a relaxing natural environment, enhancing personal and social health.
Students now have an area that encourages social interaction in a natural environment, giving them a sense of place. They also have a greater awareness of sustainability issues and are able to see first-hand the impacts of native animals on some of the plant species.
Lessons Learned
A key lesson learnt from this project is the importance of finding the right people to help with the project. The school was fortunate to find the services of a skilled, enthusiastic and knowledgeable landscape designer who had a wonderful vision of what the area could look like. In hindsight, they reflected that they probably wasted a lot of time talking to people who didn't have an overall knowledge of what could be achieved.
Conclusion
Several grade 5 students have eagerly taken on the responsibility for watering and weeding the area.
The school principal commented, "I can't believe how amazing this area looks. It is a transformation."
Peggy Pickrill, the school business manager praised the outcomes of the project saying, "It's has been exciting to see the ownership by students. They regularly come to ask staff if they can weed or water and offer suggestions for additions or improvements."
"Without the support of Junior Landcare and South 32 TEMCO, Echidna Way wouldn't be possible." Advanced skills teacher Janine Spicer declared.