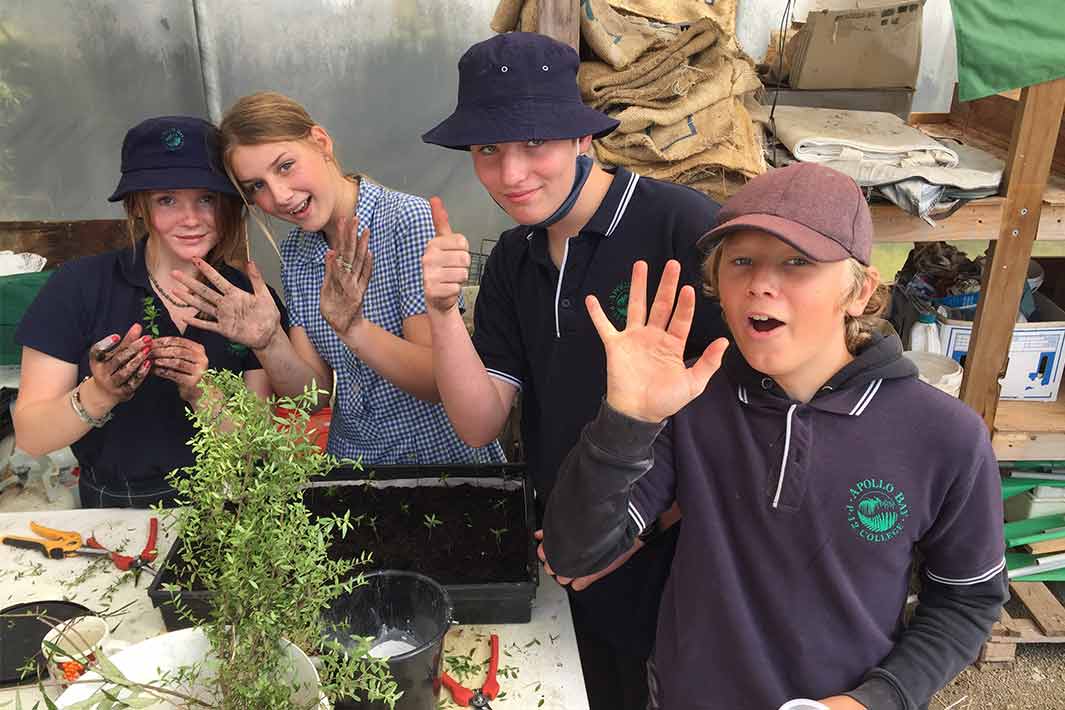 Students at Apollo Bay P-12 College getting hands-on propagating native plants.
Age Group: 7-14, 14-18
Grant Name: 2020 Victorian Junior Landcare and Biodiversity Grants
School: Apollo Bay P-12 College
Grant Sponsor: Department of Environment, Land, Water and Planning
Project Overview:
Like many towns in Australia, Apollo Bay, in Victoria's southwest, is experiencing a rapid increase in development and urbanisation. Establishing a strong presence of local native vegetation within the township is becoming increasingly important to biodiversity conservation.
As part of their grade seven environmental studies program, Apollo Bay P-12 College wanted to run a revegetation program where students could be involved in the collection of local native seed, propagation and planting on school grounds.  Securing a 2020 Victorian Junior Landcare and Biodiversity Grant made this project a reality.
Educational Outcomes
By planting local natives that don't require fertiliser, insecticides or watering students learned about how to be more sustainable gardeners.
Learning how local natives are adapted to the area and how insects and other animals are adapted to the plants is an important part of biological science.  By learning about the landcare community and how we come together to help each other learn about and protect the environment, students gained an improved understanding of how to nourish community health.
As part of their project, students looked at Indigenous uses for plants and why local native plants support more biodiversity. This helped them gain understanding and respect for Aboriginal cultural heritage.
Environmental Outcomes
This project will make a small but important difference to the local environment through habitat restoration which will increase biodiversity and help protect threatened species.
Conclusion
A volunteer on the project commented, "One of the students didn't even know what a possum was, this made me realise how important these kind of activities are for helping our youth learn about and appreciate the environment."
Students learned the value of biodiversity and its connection with the region's natural ecosystems, while they conducted citizen science projects monitoring the wildlife that the native vegetation attracts to the school grounds.