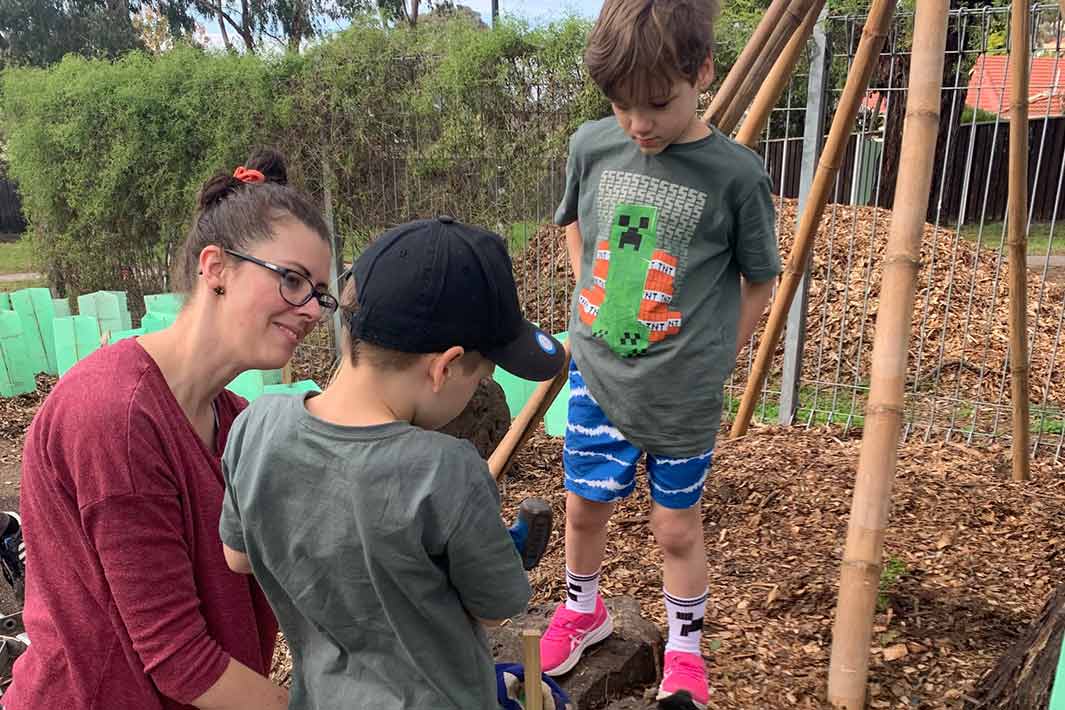 The native bee project at Apollo Parkways Preschool enabled the children, staff and families to connect with nature, learning about local Indigenous plants.
Age Group: 0-7
Grant Name: 2020 Victorian Junior Landcare and Biodiversity Grants
School: Apollo Parkways Preschool
Grant Sponsor: Department of Environment, Land, Water and Planning
Project Overview:
This project, funded by a 2020 Victorian Junior Landcare and Biodiversity grant enabled educators at Apollo Parkways Preschool in Melbourne to teach the children about native bees and the role they play in their unique pollination capabilities. They were also able to make the children aware about the importance of protecting their native habitat.
As part of the project, they planted plant indigenous, Wurundjeri flowering plants, in the kinder yard and adjoining kinder and council spaces.
Teachers, parents and children created an educational outdoor space in the form of a 'tee pee cubby', doubling as trellis for native climbing plants. This aligning with the centre's play based learning values. It allows the children to connect with nature, being inside it. It is becoming a continuous learning resource for teachers, maintaining child engagement as they have started to watch the plants grow up around it. Children have taken responsibility to care for the surrounding garden, providing care for and protecting their 'minibeasts' habitat.
Educational Outcomes
This project provided an opportunity for the children to connect to country. This gave them a better understanding of the culture of the first people on the land on which they play and learn.  It has allowed the children to connect with nature, understanding the interconnectedness between: plants, land, insects, animals and human impact.
Environmental Outcomes
The project enabled the children, staff and families to connect with nature, learning about local indigenous plants. It provided them with a rich outdoor environment that the children have taken responsibility for tending to through nature walks outside the kinder grounds where they water and monitor growth of the plants they planted both inside and outside the kinder grounds.
They now have a rich outdoor classroom and space for the children to engage in play within the garden. Shortly, nesting boxes and bee hotels will be delivered so that they can extend out learning further as "mini beasts" make their way into our yard.
Conclusion
Families came together to create the new play space and native garden for the children attending the preschool for years to come, providing them with a rich environment to play and learn in.
The children, families and educators are taking responsibility for monitoring nesting boxes and bee hotels, for watering and tending to the plants. They are developing a roster of the kinder holidays to ensure plants are watered and cared for, removing fallen debris and branches to ensure optimal growth of all plants.
Here's how some of the children answered when asked, What do you love about our new garden?
"I loved planting all the plants with my mum and dad and eating a sausage on tree planting day".
"I keep looking each day to check and see if any insects have moved into my bee hotel at home. My sister and I found a great place in the garden and I hope they will move in soon!"
"I hope that our trees and plants grow soon so the bugs will come back to our kinder land!"