Indigenous planting improves biodiversity and habitat for local fauna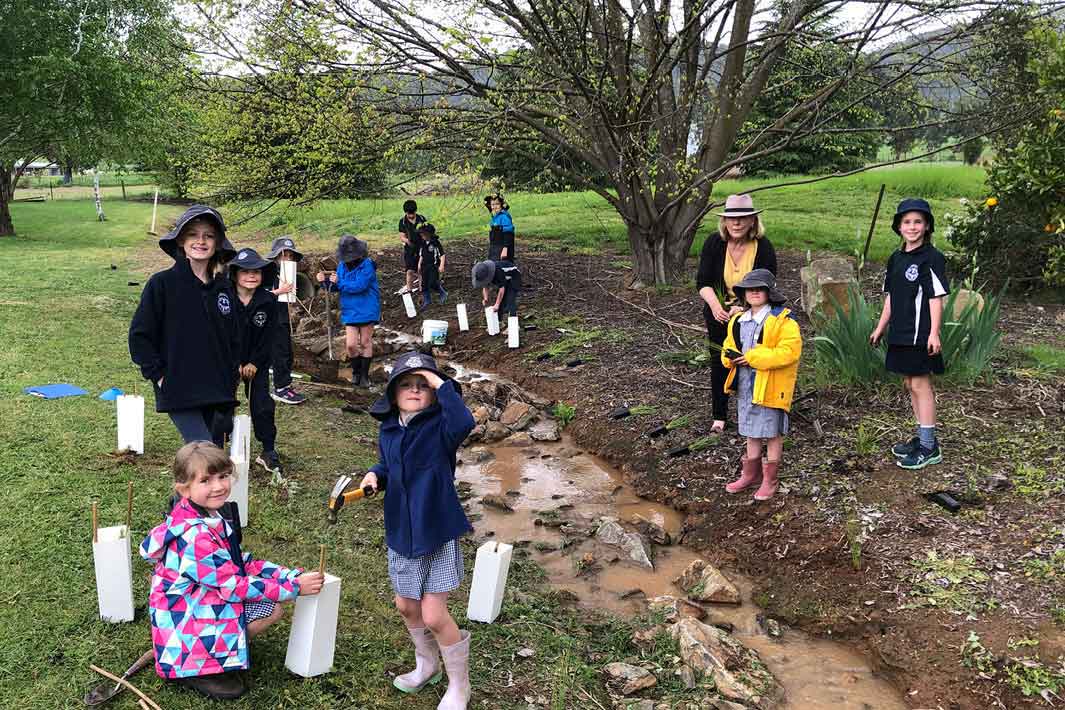 Grant Name: 2021 Victorian Junior Landcare and Biodiversity Grants
School: Eskdale Primary School
Grant Sponsor: Department of Energy, Environment and Climate Action
Project Overview:
Forty students were involved in a 2021 Victorian Junior Landcare and Biodiversity Grants project (of $5,000) that provided students with an opportunity to participate in a biodiversity focused hands-on project and environmental learning activities. The project at Eskdale Primary School, involved the [planting of 300 indigenous plants along the bank of a waterway that runs through the school.
The students at the school were responsible for checking the health and growth of the indigenous plants they planted, as well as watering and removing invasive weeds from the planted area. They worked on the project as part of their environmental and sustainability classes, and have enjoyed seeing the benefits of their on-ground work as the plants grow
Being able to care for the plants has and continues to provide an opportunity for students to experience and spend time outdoors, and has positively influenced their behaviours towards the natural environment.
Educational Outcomes
The project was incorporated into classroom activities, enhancing children's understanding of biodiversity and habitat requirements for native fauna. They learnt about researching indigenous plants suitable for different sites, and through regular on-ground working bees, gained skills in caring for plants and ensuring they are healthy.
The students involved used their problem-solving skills when the water they used to irrigate the plants ran down the slope to the bottom of the bank. They learnt to dig small reservoirs around each plant to help retain the water was it ran down the slope.
Environmental Outcomes
The planting of indigenous shrubs, grasses and trees will ultimately provide habitat for local birds, mammals, insects and reptiles. Although the plants are still relatively small, once fully grown they will provide a dense area of habitat along the waterway, improving biodiversity.
The plants will also provide pollen for native insects and birds, and help prevent soil erosion along the waterway.
Conclusion
The students had the opportunity to work together across different year levels planting and 300 indigenous plants that were planted through this project, with two half days spent completing the planting. Through involvement in preparing the site, researching the project, planting, and caring for the plants, the students gained real ownership over the project. They were rewarded with increased knowledge of indigenous plants and awareness of environmental conservation, and they will continue to be rewarded as birds, insects and other native wildlife begin to visit their project once the plants are more established.