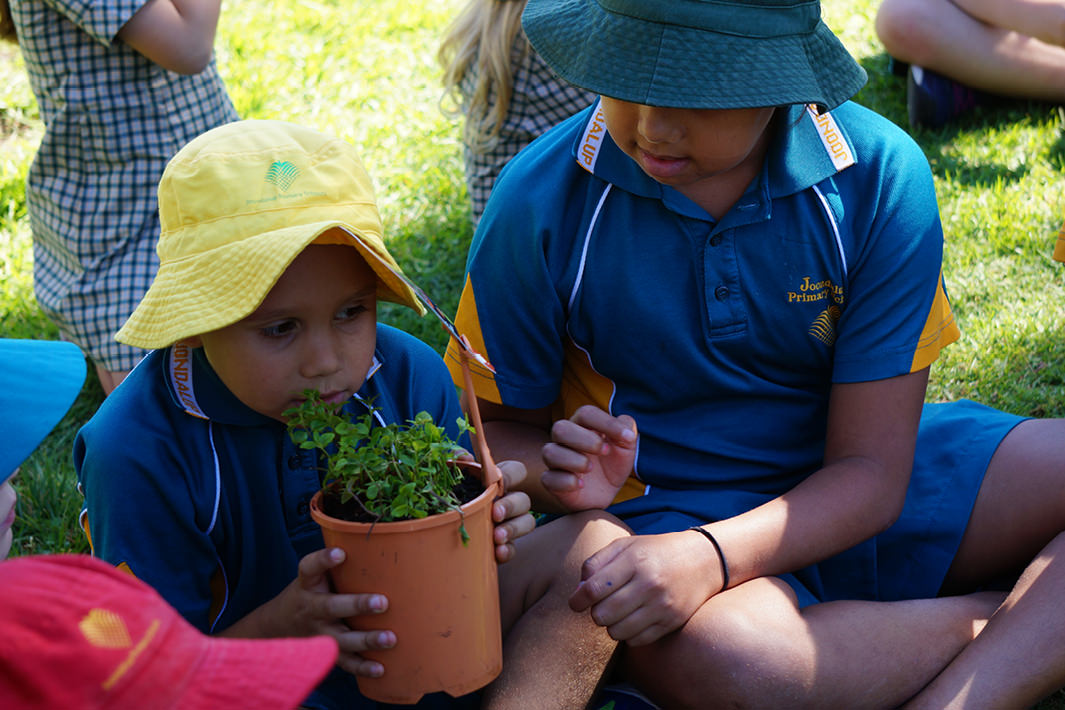 Grant Name: 2018 Woolworths Junior Landcare Grants
School: Joondalup Education Support Centre
Grant Sponsor: Woolworths
Project Overview
Located in a suburb of Perth, Joondalup Education Support Centre (ESC) specialises in education for students with special needs. The ESC shares a campus with Joondalup Primary School. They have Sustainability Plan and activities involving both schools working collaboratively with the Sustainability Coordinator.
The schools believe that sustainability is at the heart of all we do for now and in the future. With this in mind, they already had a permaculture organic vegetable garden, worm farms, rainwater tanks, compost system and various other reduce and reuse and recycling programs run by the students, staff and community.
To enhance their sustainability program and help students interact with cultures in the broader society, in particular the local Moorditj Noongar, the ESC wanted to create an Indigenous Bush Tucker Garden.
To accomplish this, they were thrilled when they were successful with their application for a Woolworths Junior Landcare Grant that they received in early 2019.
Students researched edible plants native to the local area and made informed decisions on what to plant in an unused and unloved part of the school vegetable garden. Key activities included preparation of the site, selection of plants and planting.
Environmental Outcomes
The garden is now producing Indigenous bush tucker for the school community in areas such as classroom cooking and after school club cooking.  The bush tucker is also used for the school's Grow Free Cart, a community initiative where excess organic produce is given and shared freely. The ethos being to 'Give what you can and take what you need'. The garden has begun to enhance the natural environment by encouraging native bird and insects into the school garden allowing students to observe the important role animals play in the garden ecosystem, including a resident bobtail lizard and an active insect home.
Educational Outcomes
This project actively addressed the cross curriculum priorities of Sustainability and Aboriginal and Torres Strait Islander histories and cultures within the school. Students are developing an appreciation of the benefits of a bush tucker garden from an early age through first-hand experiences.
The 24 students who participated in the project learned skills such as investigating, analysing and communicating ideas and information related to sustainability.
Community and Social Outcomes
The local Aboriginal and Torres Strait Islander Education Officer was invited to join with the after school garden club to impart her knowledge of the plants and their uses in traditional Aboriginal medicine and the significance of watching what flowers and grows to determine the Aboriginal season.
Conclusion
Sandra Bennett, the teacher and Sustainability Coordinator overseeing this project said, "This project has bought together two separate after school clubs and community members who now work in harmony and respectfully towards each other in the quest to learn, teach and appreciate the combined Joondalup Primary and ESC school campus and it's sustainability goals."
The After School Gardening Club and the Moorditj Club have come together to maintain this project along with community members after school one day a week.