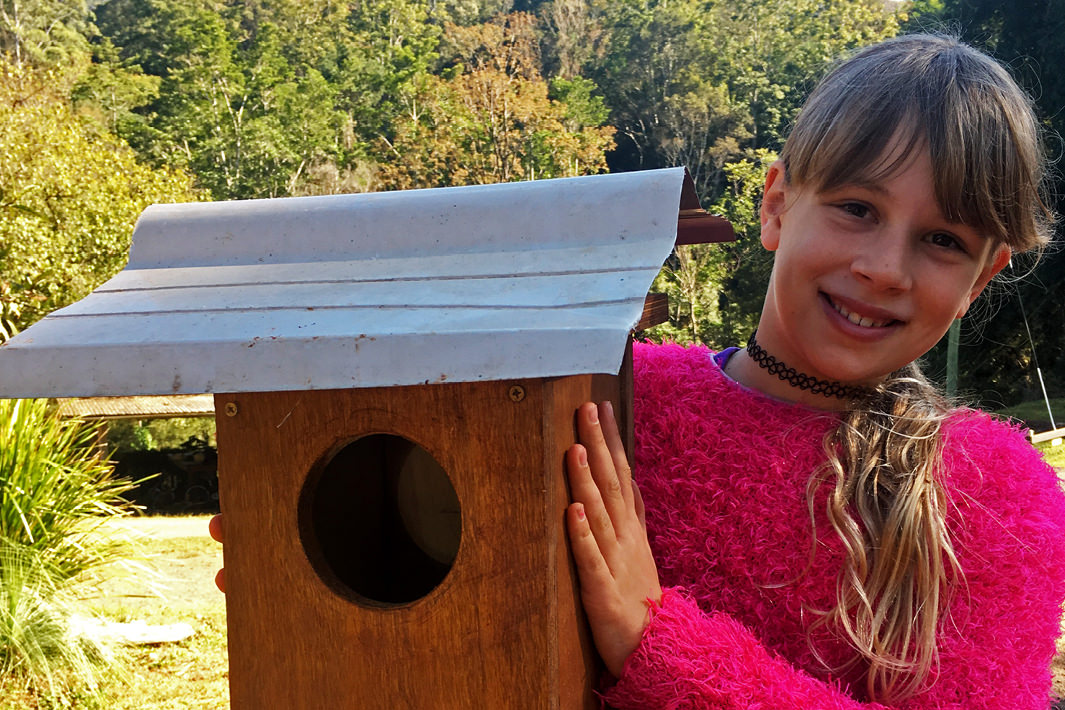 Grant Name: 2018 Woolworths Junior Landcare Grants
School: Tuntable Falls Community School
Grant Sponsor: Woolworths
Project Overview: 
Tuntable Falls Community School, near Nimbin in northern NSW, wanted to engage in habitat creation for native birds and bats. Students were encouraged to take the lead in a project designed to boost biodiversity, and to foster pre-existing relationships with local Bunjalung Elders, wildlife carers and the community. 
The new nesting boxes for micro bats, parrots and owls were part of longer-term work to restore a pre-contact riparian zone. This ongoing restoration work will ensure the past continues into the future. To facilitate the creation of new habitat, the school applied for a Woolworths Junior Landcare Grant and in 2018 received $1000 for their project.
At Tuntable Falls Community School, students learn and implement sustainable practices in the school's immersive rainforest environment. Therefore, supporting children to guide this habitat creation project was key in also promoting and facilitating trust and positive relationships with local indigenous people and the wider community.
Environmental Outcomes 
Tuntable Falls' habitat creation project helped reduce pests and waste, whilst also creating a safe place for both birds and bats.
The introduction of micro bat boxes helped to reduce the number of insects - specifically mosquitos - within the school environment. Parrot boxes encouraged their residents to feed on the surplus fruit in the school orchard, which eliminated waste. The Powerful Owl box provided a vital and safe nesting location for this endangered species.
Educational Outcomes 
The students learned how to construct and install bird and bat nesting boxes within the Tuntable Falls School grounds. They also became closely engaged with the community and reinforced relationships with local Elders and wildlife carers, such as WIRES.
Other skills the students learned from this project include research, construction, problem solving, design, and prototype testing. Students were able to source sustainable materials for the habitat creation project. They also overcame challenges when it came to constructing the Powerful Owl box, by enlisting the help of the community.
Conclusion
Tuntable Falls' students were involved in all aspects of the habitat creation project, which helped them to feel invested in the long-term outcomes of their work. This level of engagement gave them experience in a broad range of practical and social skills. 
However, the activity they enjoyed the most was putting the new habitat in place, by using a pulley to raise the nesting boxes and attach them to trees.