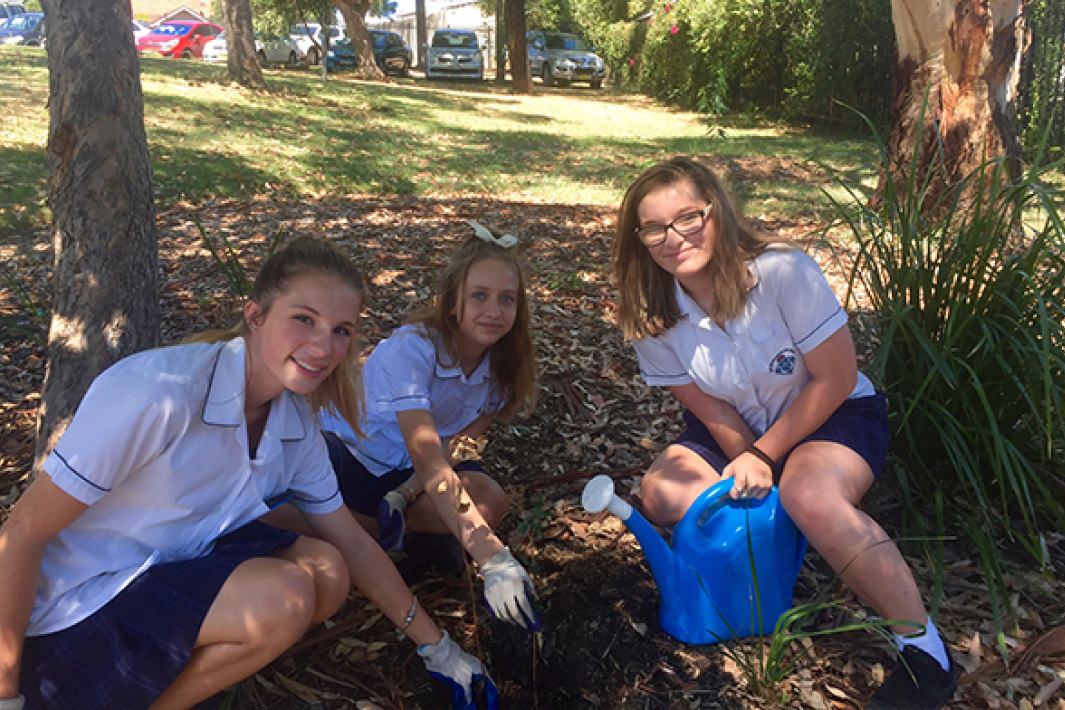 Grant Name: 2021 Woolworths Junior Landcare Grants
School: Maitland Grossmann High School
Maitland Grossmann High School, in the NSW Hunter Valley, has been working towards improving the school's environment with the help of their environmental educator, Caterina Poggi.
Caterina has inspired many students to become interested in learning about the importance of preserving the environment. Landcare has become an option for school sport, along with Green Team meetings once a month to discuss future environmental initiatives for the school, including obtaining grants from the state government and private enterprises. The school's Year 9 elective Journalism class recently participated in establishing young trees in a newly developed Aboriginal-inspired meeting place. Clean Up Australia Day was a huge success, with Year 7 being introduced to the concept of maintaining a clean school environment.
In 2012, Caterina and her team started the process of revitalising the natural waterway on the edge of the school, with financial support from Hunter Expressway and the school's Parent's and Citizens association. With an army of volunteers, the waterway was restored and became an opportunity for students to use when studying environmental sciences and geography, in particular its role in providing students with the chance to water test. The renewed waterway area allows drainage from the school and storm water to flow directly into the Hunter River and provides a home for native wildlife and insects.
The school has also created a cultural hub for its Indigenous community. Created from red rocks and surrounded by natives, the Yarning Circle is a place for Aboriginal students to embrace their cultural background and for the non-Indigenous students to further develop their understanding of their country's history and heritage.
Maitland Grossmann also has a designated area for Caterina and the students of the school to grow fruit and vegetables. This area also contains two water tanks, worm farms and an aquaponics tank, which contains Australian Silver Perch fish. This area also contains a mud shed, which houses a large family of native bees.
From here, the school is working towards maintaining a healthy and eco-friendly environment and endeavours to inspire other schools to become more ecologically friendly and connected with their local environment.
Written by Year 9 Journalism Class, Maitland Grossmann High School