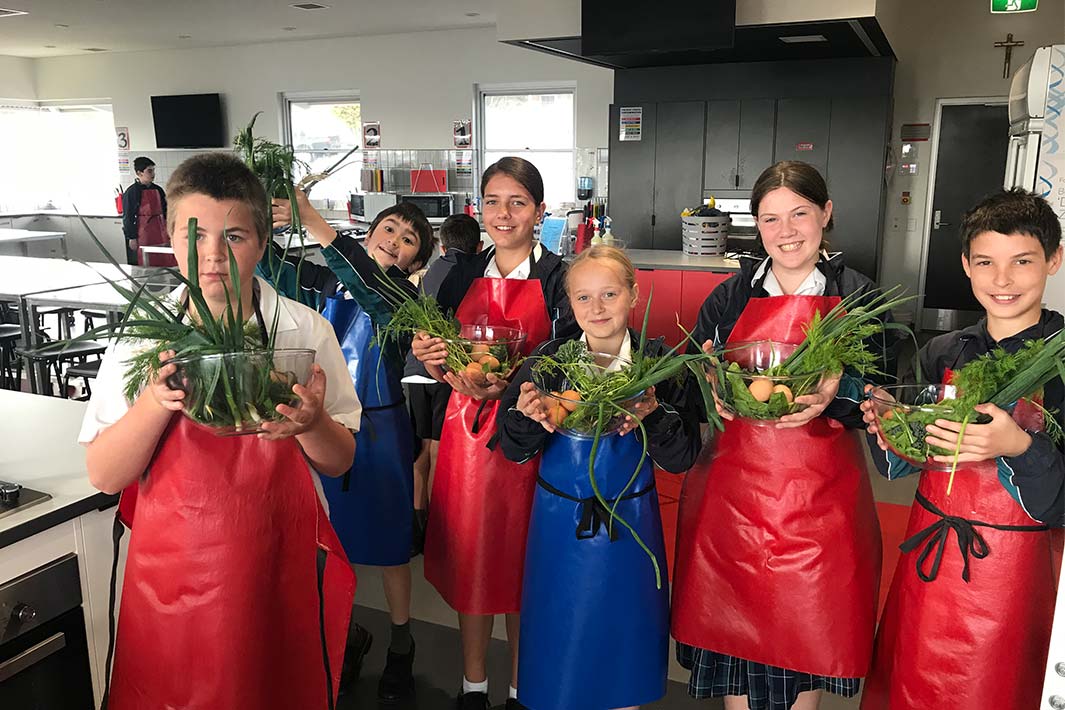 Students display veggies they've harvested, now ready for cooking.
Age Group: 0-7, 7-14, 14-18
Grant Name: 2020 Bushmans Junior Landcare Grants
School: St Joseph's School
Grant Sponsor: Bushmans Tanks
Project Overview:
St Joseph's School in Port Lincoln caters to students from Kindergarten through High School. The school wanted to provide its wide range of students with a rich, hands on environmental learning experience. With funding from a Bushmans Junior Landcare Grant, they created a vegetable garden. They called their project, 'From seed to feed'.
Students prepared the gardening area, set up compost systems, planted vegetables they had propagated from seed, watered the garden beds and monitored for weeds and pests. They really enjoyed harvesting the vegetables and cooking them.
Astrud, one of the students who participated says, "We started to plant our seeds including spring onion, spinach, rocket, dill and radish. After a lot of caring, watering, taste testing and time we started to pick all our full-grown veggies. We'd then decide on a dish that we could make including as many of our school-grown veggies as possible."
As an example, one of the teachers created a recipe for a bowl of tasty, fried rice. After picking the veggies, each group chopped up their portion of spring onion, radishes, spinach, rocket, broccoli and dill. Then they fried them in the saucepan and added some scrambled eggs and rice.
Educational Outcomes:
Students learned about the climate system which helped them choose appropriate plant species to grow in Port Lincoln's local conditions. They investigated the seasonal changes and the impact this has on what can be successfully grown locally.
When learning to propagate seedlings, they saw how a seed is activated and the process it goes through to grow into a healthy plant.
They also discovered first-hand the importance of composting to reduce food waste, and how their scraps break down into organic matter, as well as how worms improve soil and how to care for them.
Students also now understand how growing your own produce reduces food miles, improves healthy eating habits and how and why plants need bees for pollination.
Environmental Outcomes:
The project successfully enhanced the school's biodiversity by attracting beneficial insects and reducing pest plants. Soil quality was improved through regular composting, fertilising and mulching. These enhancements, increased the soil's ability to retain water, lowering the overall water needs.
Using the students' daily lunchbox fruit and vegetable scraps in compost further enriched the soil and prevented unnecessary release of carbon through food waste going into landfill.
Conclusion:
The students particularly enjoyed getting out of the classroom, getting their hands dirty, and experiencing the satisfaction of eating something grown from scratch.  Moving forward, the school plans to run the garden as a garden club, enabling students from a wider spread of classes to be involved.