From dustbowl to dry creek bed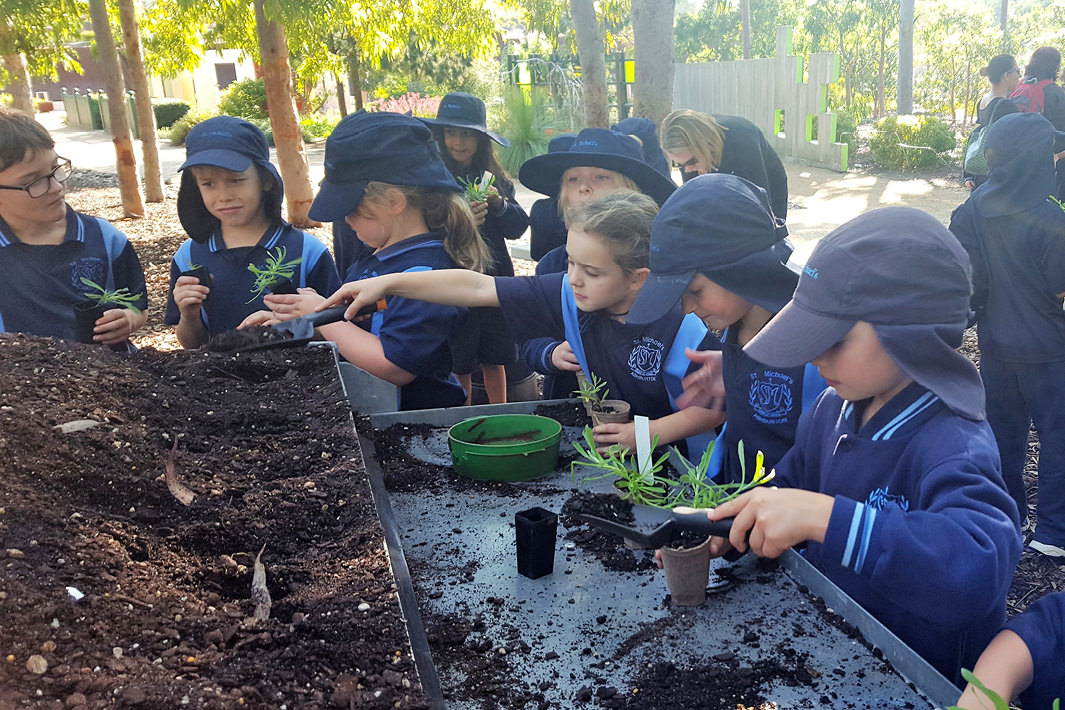 Grant Name: 2021 Woolworths Junior Landcare Grants
School: St Michael's Parish Primary
With a growing focus on increasing awareness and commitment to the natural environment, Ashburton school, St Michael's Parish Primary, has undertaken an exciting project to transform a previously eroded area into a dry creek bed.
A big project in scale and ambition, a Powerful Youth Projects grant was secured to assist with the landscaping activities for the 35 metre x 3.5 metre dry creek bed. Having carved out the bed, weed limiting fabric and pea gravel was laid, along with river rock of varying sizes along the creek edges. Sedges, rushes and native grasses Indigenous to the area were planted, with the project bringing a patch of bush to the school grounds.
The transformed area was previously a dustbowl, an eyesore and a cause of continuous erosion. The improvement of the site has resulted in a healthier natural space, where plants now grow, insects and other creatures can thrive and dust run off no longer pollutes the area and surrounding waterways.
170 students got their hands dirty during the project, working with 30 volunteers from the school community, including parents and teachers – a true team effort! The development of such a unique and immersive natural space within the school has encouraged a greater connection with nature and fosters a real appreciation for the natural environment.
As part of research for the project, students visited Cranbourne Botanical Gardens, learning about Australian plants and the environments they're best suited to. This helped educate the students about species that would thrive in their school environment.
Connecting with the environment in an outdoor classroom, learning about Indigenous plants and understanding the practicalities of a hands-on environment, were all highlights for the students involved in the project.
As the creek bed garden settles and grows, opportunities for involvement from the students will evolve, creating greater interaction with the space. Conducting insect counts and measuring plant growth are already on the cards to help the sustainability journey of St Michael's Primary continue.
The Powerful Youth Projects are funded by Momentum Energy through its partnership with Junior Landcare. Schools, childcare centres and youth groups in Victoria are eligible to apply for a Powerful Youth Project.