Enhancing a grey box woodland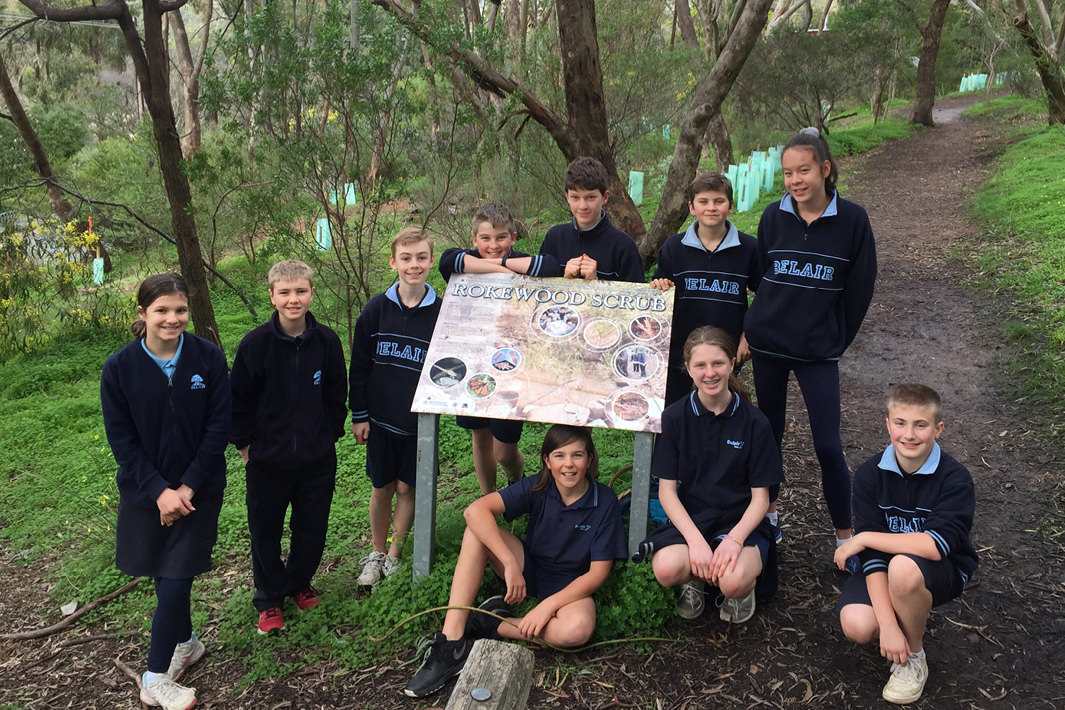 Grant Name: 2018 Woolworths Junior Landcare Grants
School: Belair Primary School
Grant Sponsor: Woolworths
Project Overview:
A remnant of an endangered Grey Box woodland community sits within the grounds of Belair Primary School, located in the leafy foothills of the Mount Lofty Ranges in South Australia. Rokewood Scrub, as it's known, became the focus of a school project. Their aim was to revive and improve the quality of this habitat for as many species as possible.
The plan was to implement weed control and student-maintained water sources for birds and insects, as well as to plant specific habitat species, install nest boxes and establish bee hotels.
As a learning opportunity, the project showed the children what limiting factors can affect natural habitat value and how it is possible to improve the sustainability of an ecosystem.
Environmental Outcomes
Habitat was introduced and optimised in the woodland to encourage a variety of birds and insects.
Activities included the introduction of plants important for the survival of specific insect species and for birds. A notably successful example is the Straggly Berry Saltbush that benefits the Saltbush Blue Butterfly caterpillar.
Bee or insect hotels were made and installed, as were new nest boxes for Brushtail Possums and various bird species. Existing nest boxes were examined and monitored with a pole camera, with most found to be inhabited by Ringtail Possums.
The school community also identified that it was important to provide a balance of habitat types in a Grey Box Woodland. One outcome is that they have learned to avoid overuse of mulch. Whilst the mulch helps with water retention in the soil – a key ingredient for plant regeneration – and provides refuge for small lizards, it needs to be limited so that bare soil is available for certain bee and spider species to build their nests in. Lower branches and dead wood have also been maintained to provide perches and refuge for lizards.
Educational Outcomes
The Belair Primary School community worked together effectively as a team. They learned the names of species, shared their knowledge amongst themselves and discovered how to encourage a natural habitat to grow in balance.
Belair Primary School students discovered the importance of removing barriers that prevent natural habitat generation. This includes conducting weeding at an earlier stage to reduce competition between plants and allow local species to naturally regenerate.
Students also explored the relationships between plant and fauna species within a typical Grey Box woodland community. They identified and planted species that provided homes and food, and that encouraged pollination.
Conclusion
In total, 300 students took part in the project to enhance the Grey Box Woodland community. The school's Eco Club was involved in its inception, whilst the wider school community joined in with planting, monitoring and maintenance jobs, such as weeding. During regular maintenance sessions, Eco Club members impressed teachers with their ability to take on and understand complex concepts, and work effectively with minimal guidance.
The project was something the whole school community was proud of. The students particularly enjoyed the planting day, which was the result of a lot of planning. It was a great opportunity to share their knowledge and to finally see plants in the ground.
"We knew our Grey Box Woodland was important, but this year we have learnt it is about more than just the trees and it is also all the plants and creatures that are part of a good condition Grey Box Woodland." Belair Primary School teacher.