Creating a water wise native garden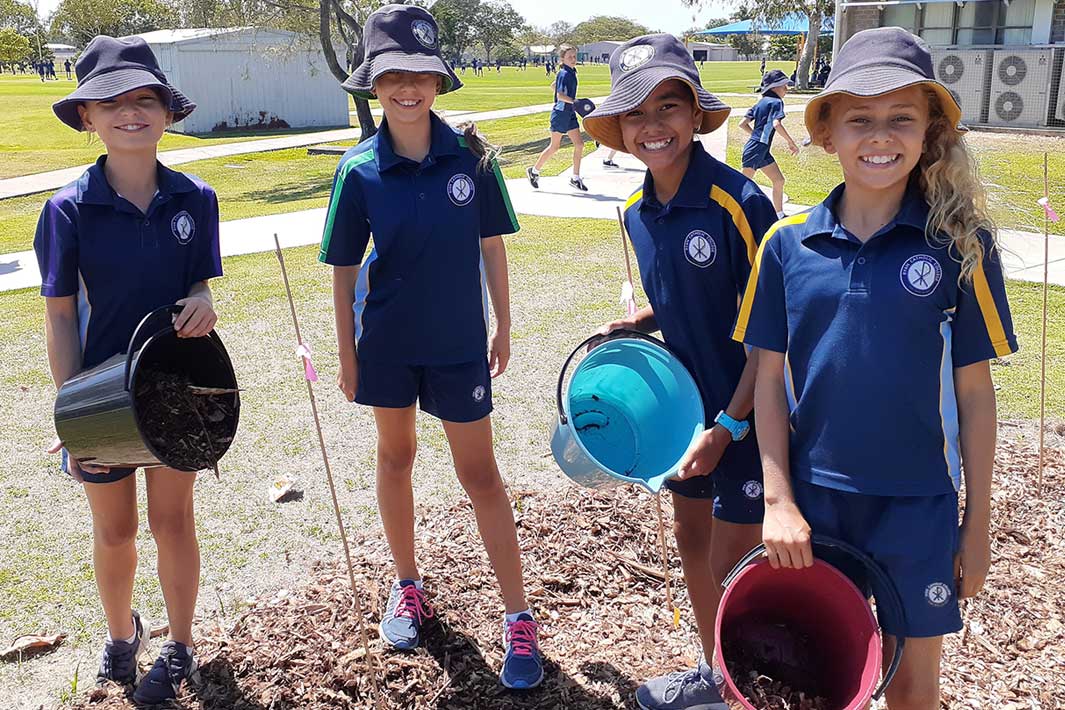 Grant Name: 2020 South32 Junior Landcare Enhancing Habitat Grants
School: Ryan Catholic College, Townsville, QLD
Project Overview:
Ryan Catholic College is located in Townsville which is prone to drought. The school has also lost many trees over the past decade due to Cyclone Yasi, floods and building projects.  Teachers and students wanted to regenerate a bare area on-campus using native plants. A South32 Junior Landcare Enhancing Habitat Grant enabled students to plan, design and create a native garden consisting of local provenance water smart native plants to increase biodiversity, make the school more environmentally friendly, be a teaching tool, and increase plant and tree cover.
Environmental Outcomes
The plants for the native garden were chosen specifically because they attract birds, bees, butterflies or other insects. Each plant has a traditional use in Indigenous Australian culture. Anecdotal evidence suggests that the garden is already attracting more life to the area when compared to what the area was like when it was only turf. The variety of plants in the garden has also increased biodiversity and require less water than a traditional lawn.
The 100 students who participated in this project learned about the importance of biodiversity and considered how human activity can adversely impact the environment, for example, through land clearing for building. They now have an appreciation and understanding that careful consideration of plants can improve soil quality and provide food and shelter for a range of wildlife.
Educational Outcomes
Year 9 Science classes surveyed the area for data on biodiversity and installed pitfall traps in the garden to carry out surveys every six months. All students who were involved learned explicitly about the concept of sustainability through the choice of plants and caring for the environment, but also in terms of the garden continuing.
Students gained an understanding that a native water smart plant requires greater care as a seedling but will need very little as it matures and therefore will not require as much labour. They have considered how green spaces are beneficial to people and wildlife and the health benefits of working with living things. The plants in the garden also have an identified significance in Indigenous culture, providing future opportunities for students to learn about Indigenous culture from traditional owners.
Conclusion
Students from years 5-12 now work together to create and maintain the garden. It is proving to be a rich teaching tool and it will continue to provide regular opportunities for students to work outside, weeding and mulching, and checking the progress of the garden.
In a time of increasing anxiety for the future and restrictions related to COVID-19, this project empowered students to form a community and make a positive impact on their environment.
One of the teachers overseeing the project said, "The skills students learned can be practised again and again, including in their homes. Helping them to be more aware and appreciative of their environment so that they act as stewards is vital and this project has achieved that."