Creating a sustainable garden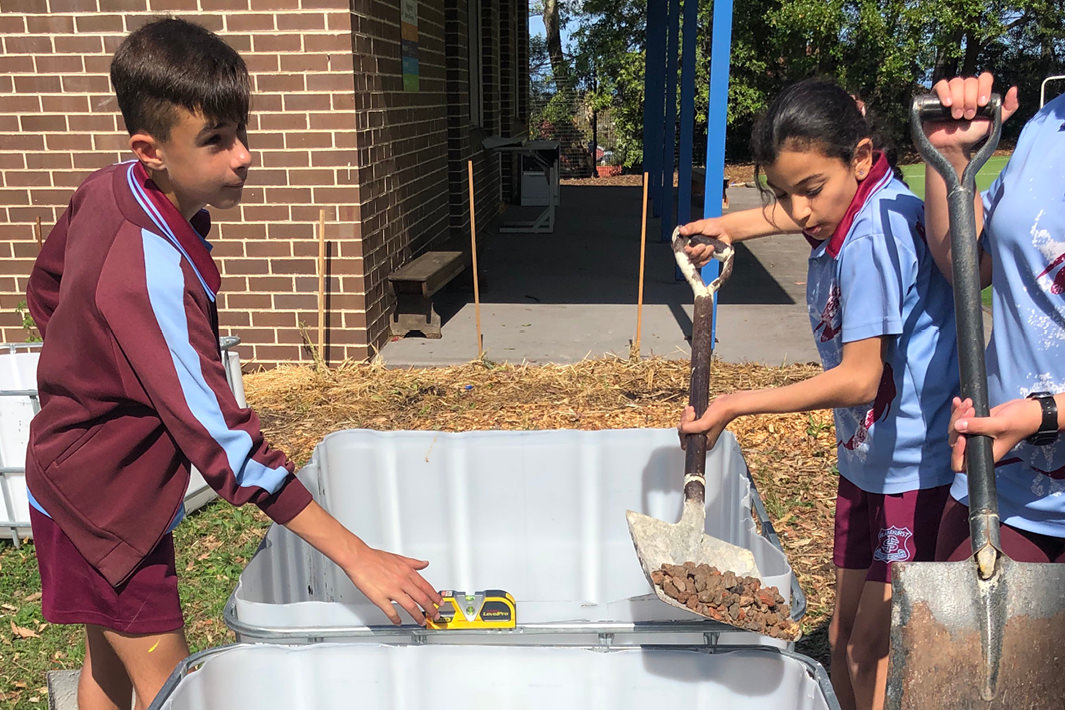 Grant Name: 2018 Woolworths Junior Landcare Grants
School: Blakehurst Public School
Grant Sponsor: Woolworths
Project Overview:
Blakehurst Public School wanted to create a sustainable gardening area/outdoor learning space. Their aim was to involve students so they could learn to value nature and develop an understanding of how it is part of their role to nurture the environment and build life-long awareness.
Their Bluey's Greens-Sustainable Garden project was set to promote sustainability by using and selling the food grown in the new garden, considering the plants and vegetables for the environment and using worm bins as compost to reduce the waste thrown into the school's rubbish bins.
Environmental Outcomes
To save water and teach the students about water management, the school used wicking beds for the garden.  The students helped plant flora to create a habitat for insects and animals, including basil, pumpkin, corn, lettuce, tomatoes, beans, mixed herbs and cucumber. Marigold and salvias were also planted to help with the look of garden and to promote bee activity.
Educational Outcomes
The project helped teach students about sustainability by using and selling the food that is grown in the garden beds.  They've also learned how to consider the types of plants and vegetables that are best for the environment and how using worm bins as compost reduces waste thrown into school rubbish bins.
Community/Social Outcomes
To promote sustainable practices within the school, an incursion was planned with the NSW EnvironMentors program exposing students to sustainable issues such as waste, recycling and composting.  Stage 2 students' knowledge was extended by learning about local and global sustainability issues. Teachers and students identified issues within the school and discussed options for improvements and created prototypes.
Students were taught the benefits of healthy eating and how to effectively use fruit and vegetables to lead a healthy lifestyle. With the knowledge given to students about sustainability and healthy eating practices, the school formed a gardening group of Stage 3 students to work in collaboration with the Panania Free Rangers to create our vision of a sustainable gardening area. The Panania Free Rangers are a community organisation bringing people together with gardening and local produce, including school garden programs.
Maintenance Plan
The students maintain the garden two days a week during their lunchtime and teach their peers the gardening lessons that they have learnt. The gardens are wicking beds, they are self-watering, making them much easier to maintain and more sustainable.
Conclusion
The students have enjoyed being involved in the whole process of developing the garden. They are seeing their hard work paying off.  One student said, "I've really enjoyed working with people I wouldn't normally work with to grow a community garden."
With their Woolworths Junior Landcare project, Blakehurst Public School achieved their aim of helping students learn to value nature and develop an understanding of how it is part of their role to nurture the environment and build life-long awareness.