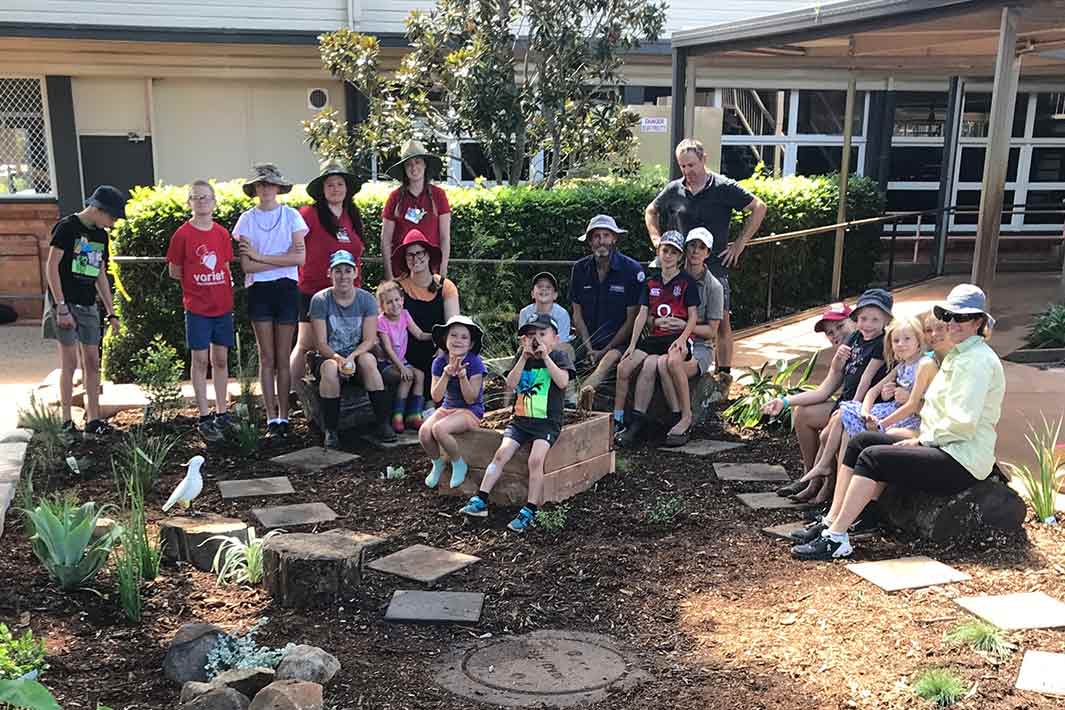 Students and teachers at Toowoomba East State School enjoy the Cultural Garden they created with the support of a Bushmans Junior Landcare Grant.
Age Group: 0-7, 7-14
Grant Name: 2020 Bushmans Junior Landcare Grants
School: Toowoomba East State School
Grant Sponsor: Bushmans Tanks
Project Overview:
A 2020 Bushmans Junior Landcare Grant enabled Toowoomba East State School to bring its Cultural Garden project to fruition. The project aimed to welcome students and families into the school community, creating a sense of belonging and encourage all students from Years 1-4 to embrace and share their culture and knowledge through the plant species, garden preparation and maintenance.
The site for the garden was a sloping barren area in the school grounds which previously succumbed to soil erosion and adversely affected the surrounding gardens and playground.
Nine-hundred students were involved in contributing to the garden design and plant species selection under the guidance of local nurseries and Landcare experts.
Environmental Outcomes:
The Cultural Garden project has restored a barren, unused area on the school grounds by establishing a sensory garden of bush tucker and culturally significant plants, improving soil quality and creating a habitat for native birds and insects.
Rainwater collected from an adjacent building roof is irrigating the garden and neighbouring newly-established orchard, while enhancing the school's water conservation priorities and ensuring the continual survival of habitat.
Educational Outcomes:
Through the Cultural Garden project, children embraced and learnt more about sustainable practices to reduce their carbon footprint and the theory and practice of water conservation to help the environment, especially in times of drought.
The garden development, nurturing and re-planting stimulated cross cultural communication skills, Indigenous engagement, social interaction, inclusiveness, gardening skills, environmental awareness and practice, group work, problem solving and design.
Conclusion:
Students have taken ownership of garden maintenance during the Health and Environmental sessions and when rostered on during the school holiday period, working and interacting together to cultivate and maintain the garden, propagate seedlings and eat, take home and share the produce.
"This project transformed an unused, barren area into an interactive space where students can enjoy nature and sit with their friends," said Amy McGaw, Health Teacher.