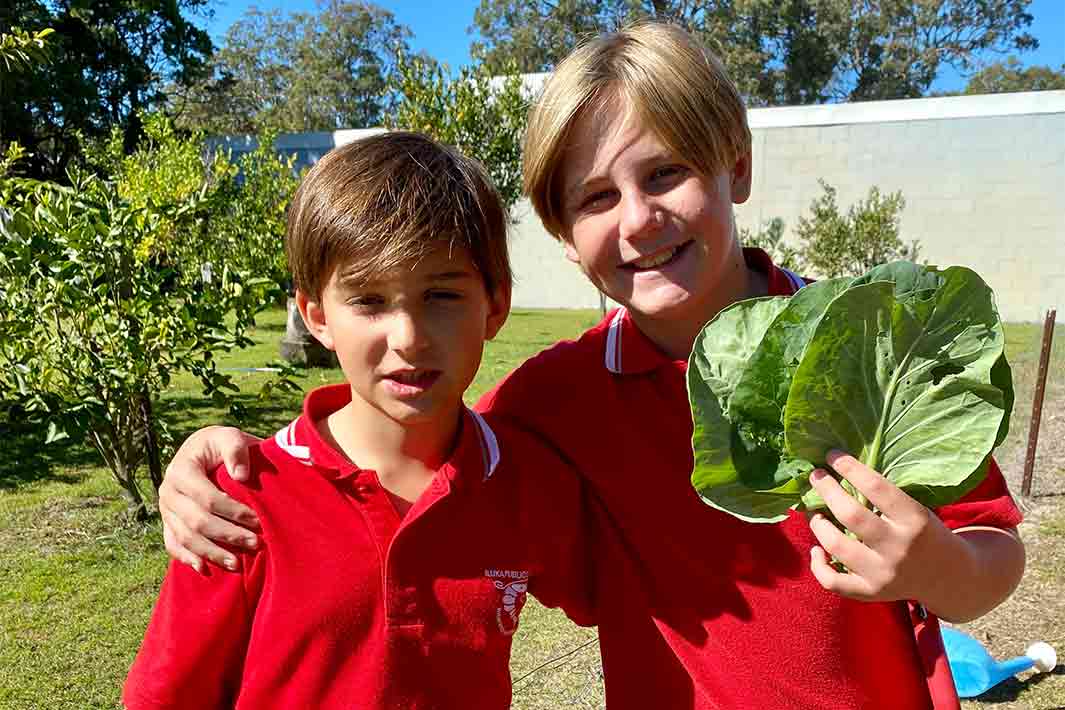 School: Iluka Public School
Grant Sponsor: Woolworths
Project Overview:
Located in a small village at the mouth of the Clarence River in north-eastern New South Wales, Iluka Public School used their 2021 Woolworths Junior Landcare Grant to create a sustainable horticultural garden. Crops were to be grown in the gardens, supplying fresh produce for the school's small canteen.
Each class was given the responsibility of looking after their plot. All students were involved in the full process; including, preparing the soil, planting the crops, watering, weeding, watching the garden grow, tending to the garden, picking and then using the crops to cook meals for other students.
Food scraps from home and school were put into a compost bin and later used to spread around the garden. This brought in worms, which in-turn, attracted native birds to the garden.
Educational, Environmental and Social Outcomes:
One of the school's goals for the year was to become more self-sustainable. They wanted to grow crops that the canteen could use for their lunch menu. The students are now are trying and even enjoying, vegetables including carrots, a variety of peas, basil, zucchini and lettuce.
The compost produced from the garden and the scraps brought in from home have helped improve soil quality, thanks to the worms from the compost. Also, there is less rubbish going into the school bins. Instead the waste goes into the compost. The school planted 140 vegetable plants and herbs with an added bonus being an increase in the variety of bird life.
A teacher overseeing the project said, "Some students are academically strong and others like to work with their hands. This project brought out the strengths in all students. The result was visible growth in social interaction.
"The year 6 class (being the elders) took the position of managers. Their work brought back into the classroom wider sustainable and wellbeing issues."
Conclusion:
The students particularly enjoyed working in the garden, watering, planting and getting their hands dirty. They enjoyed sampling the beans and peas picked straight off the vine.
"I loved getting my hands dirty," said Kobe Year 6. Emma in Year 5 commented, "I loved seeing the gardens grow a little bit more each week."
Students appreciated getting out of the classroom and into a very hands-on activity.