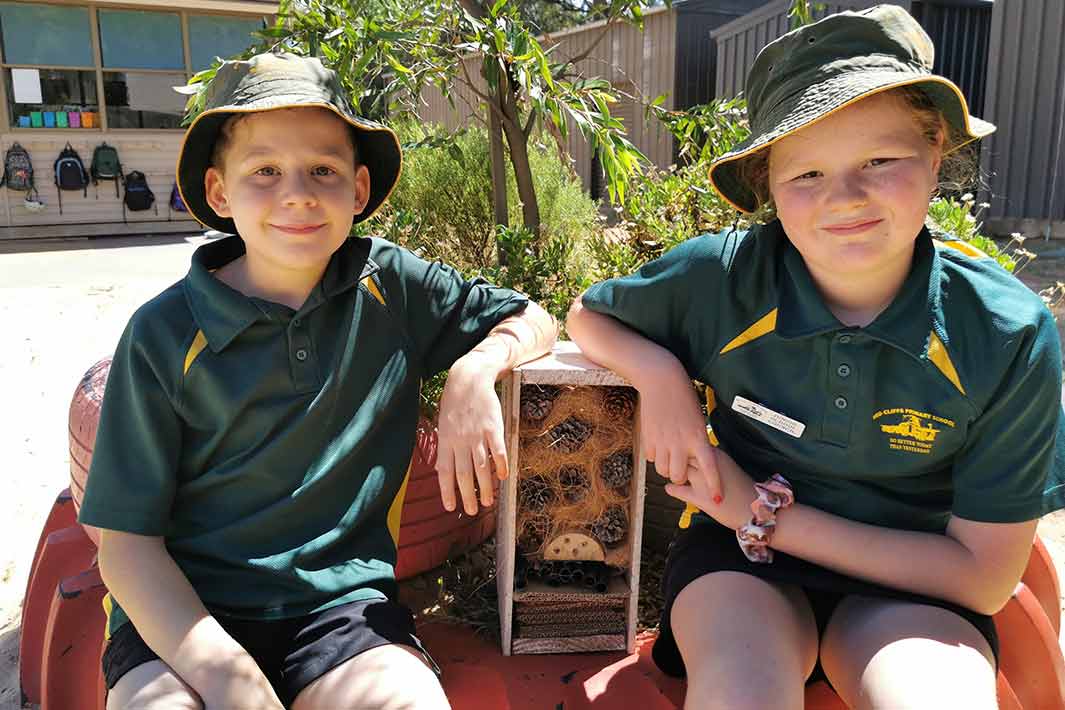 Two Red Cliffs Primary students show off their completed insect hotels.
Age Group: 0-7, 7-14
Grant Name: 2020 Victorian Junior Landcare and Biodiversity Grants
School: Red Cliffs Primary School
Grant Sponsor: Department of Environment, Land, Water and Planning
Project Overview:
Located in the north-west corner of Victoria, Red Cliffs Primary undertook an exciting project to both educate their students about biodiversity, and engage them in hands-on activities that link between home and school.
Students began this project by learning about biodiversity and the preservation of local ecosystems in a very immersive way, through a hands-on learning experience with EnviroEdu, where they interacted with native and threatened wildlife species.
They continued on from this experience with a hands-on activity making insect hotels, and presenting about their projects. Three larger insect hotels were also constructed for the school grounds and are monitored by Grade 5 students.
Educational Outcomes
The students learnt about threatened wildlife species and biodiversity through the immersive presentation from EnviroEdu. This learning linked to three curriculum areas focussing on living things and their basic needs, life cycles of living things, and the structural features and environmental adaptations required for the survival of living things.
Design and Technology skills were used to research and construct insect hotels, including the selection of materials.
Overall, students also became more aware of their local environment and the organisms living there, not only in the school grounds but at home and in parklands. They were able to continue the project at home through observing their insect hotels and reporting back on any changes.
Environmental Outcomes
One of the school insect hotels attracted a number of slaters beneath the insect hotel, and a spider in the black tubing. It spun a web to a nearby low lying palm. The monitors said they hadn't seen anything living near the 'water area' before.
Students have become aware of the importance of biodiversity. They were proactive making insect hotels to ultimately increase insect numbers and overall biodiversity in their own backyards, the school, and community.
Conclusion
This project not only helped students learn about the importance of biodiversity, but helped them participate in improving biodiversity in a hands-on way, and bring this knowledge and experience into their homes and communities.