Bushland Restoration and Aboriginal Bush Tucker Garden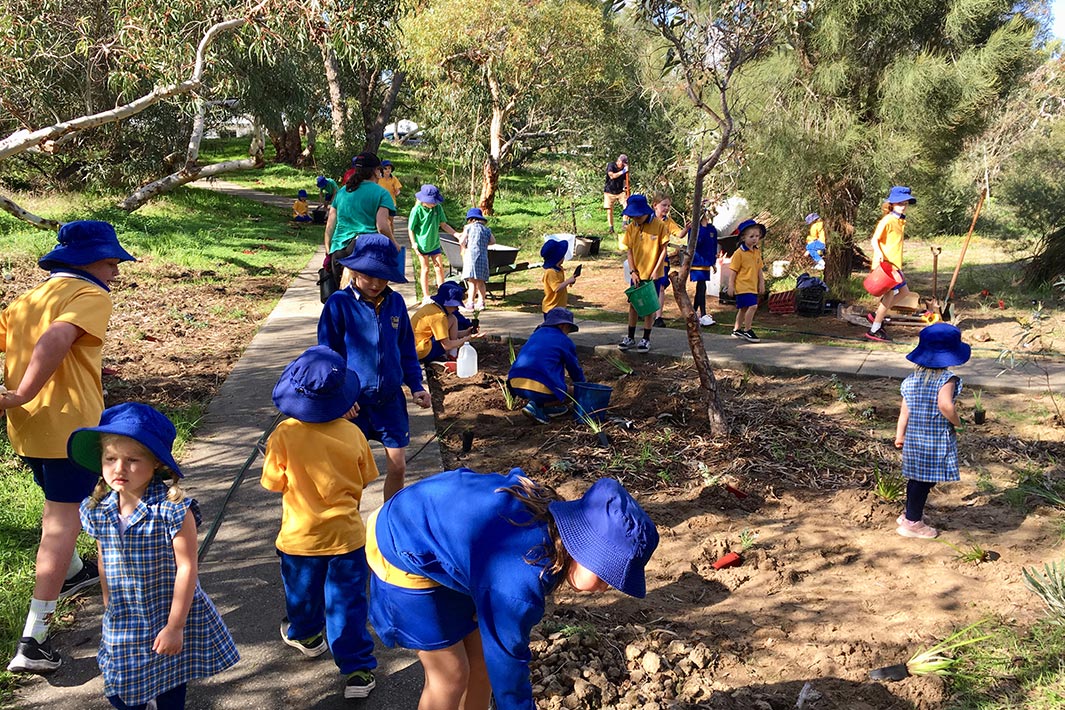 Grant Name: 2022 Woolworths Junior Landcare Grants
School: Marmion Primary School
Grant Sponsor: Woolworths
Project Overview
Using their Woolworths Junior Landcare Grant, students at Marmion Primary School got to work planting native seedlings in remnant Banksia Woodland at the school to help restore the degraded edges and reduce weed invasion. They also planted bush tucker seedlings around the school's yarning circle.
A total of 182 students, just under half of all students at school, got involved in the project – helping to water, plant and mulch 376 native seedlings and bush tucker plants.
The students loved being outdoors and feeling the soil on their hands whilst planting their own special plant. Working together in buddy pairs also proved to be popular among the students, with lots of comments shared that they wished they could do this every day!
Educational Outcomes
Four separate planting sessions were held as part of Marmion Primary School's Bushland Restoration and Aboriginal Bush Tucker Garden project. Each time a group arrived for planting, a parent helper, who is also a qualified Environmental Officer, provided the children with information about the importance of protecting remaining areas of bushland and its value to people and wildlife; she also provided planting demonstration. Thanks to another parent helper, who leads regular weekly bushcare sessions with students, they received ongoing instruction on correct planting techniques throughout the day.
The more senior students (Year 3 and Year 6) planted with their buddy classes (Kindy and Pre-Primary), giving them a wonderful leadership opportunity to teach younger students about the benefits of taking care of the environment and to supervise their planting.
"It was fun working with our buddies and seeing the little kids enjoy it. They loved pushing the soil in and the way the water glugged out of the bottle during watering," shared eight-year-old student, Anna.
The whole school was also able to attend the school's Yarning Circle opening ceremony, where Professor Simon Forrest discussed the important of Noongar culture and connectedness to the land and conducted a smoking ceremony. The Moorditj Mob from Wesley College also performed three dances that shared stories about the significance of native animals and the impact of colonisation. For many students, this was the first time they had seen traditional dance.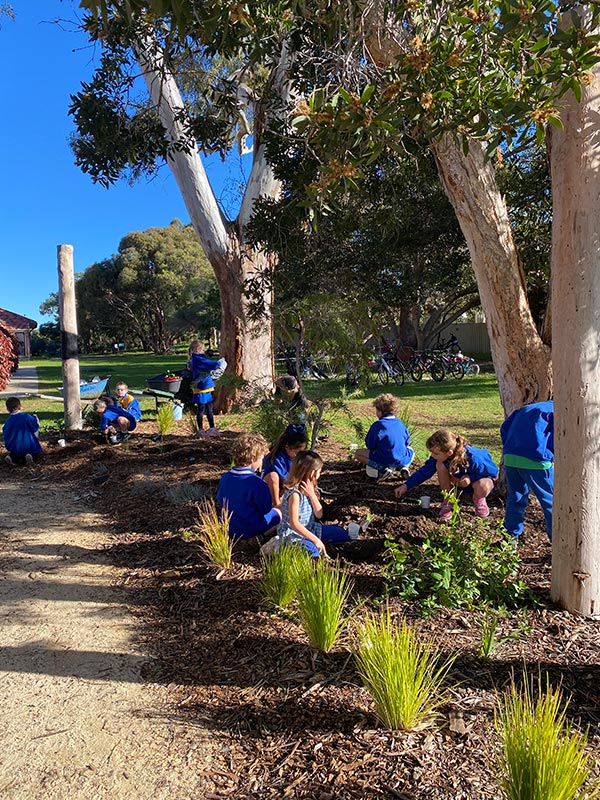 Environmental Outcomes
The students planted a diverse mix of 16 local native species endemic to the Banksia Woodlands of the Swan Coastal Plain vegetation community. These included a range of trees, shrubs, sedges and herbs. Species were chosen to provide a food source for the local wildlife present, including banksias for the endangered Carnaby and Forest Red Tailed Black Cockatoos, grevilleas and bottlebrushes for honeyeaters, quandongs for bobtails, and small flowering herbs for native bees and insects. The native vegetation also provides habitat for these animals and quendas.
Conclusion
With many students not involved in gardening or bushcare at home, Marmion Primary School's Bushland Restoration and Aboriginal Bush Tucker Garden project provided them with a valuable experience to connect with nature and learn how to care for their local environment.
Thanks to the project, teachers, parents and students alike all commented they had learnt something new through the planting activities:
"It was lovely to see the student ownership of their planted seedlings, with students taking their parents to bushland on the way home from school to show them their plant."