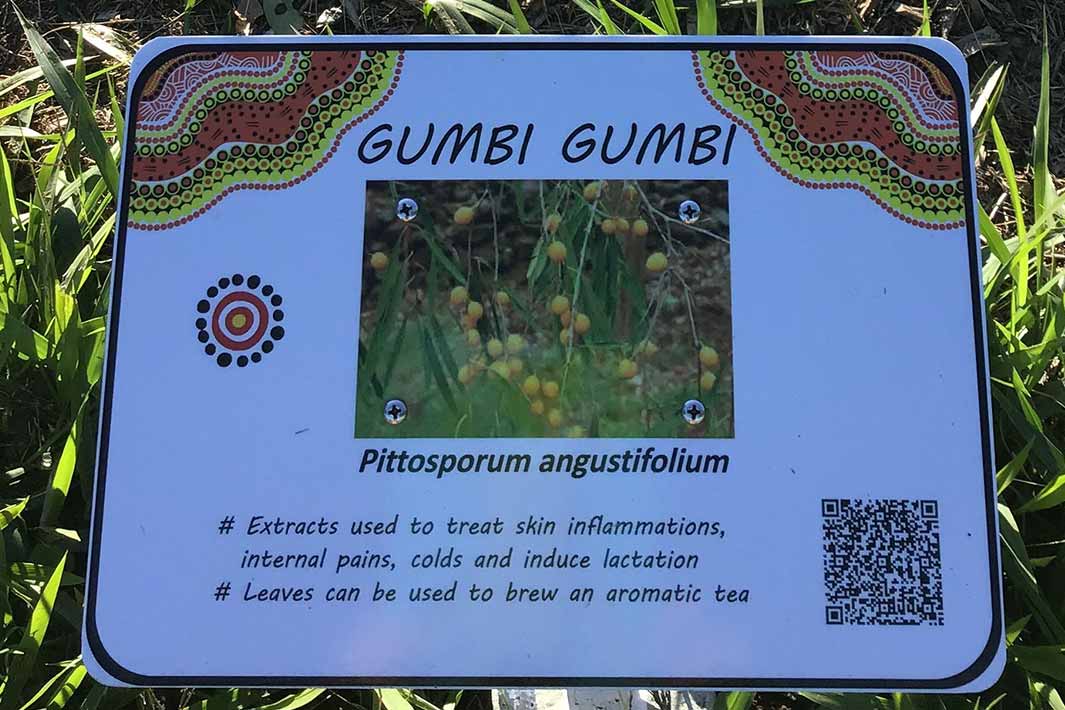 Flora signage on the Bush Tucker Trail.
Age Group: 7-14
Grant Name: 2020 Lendlease Junior Landcare Grants
School: Farnborough State School
Grant Sponsor: Lendlease
Project Overview:  
With a focus on Indigenous perspectives and cultural awareness, Farnborough State School, located on the traditional lands of the Darumbal people on Queensland's far North Coast wanted to create a Bush Tucker Trail with native plantings, leading to a Yarning Circle.  A 2020 Lendlease Junior Landcare Grant provided the funding for students and teachers to implement their project.
The Farnborough school community cleared an area, identified, researched and planted a variety of trees including rainforest/beach scrub, fruit and bush tucker along their Bush Tucker Trail and Native garden.  Julian, a Year 1 student, remarked "I liked planting the Julian Jackfruit tree."
Signage plaques with QR Codes were created and placed beside a number of the trees. This provides students and community members an easy way to gain insight about the significance of these trees and other plants in Aboriginal culture. 
A Yarning Circle has been created that allows children and classes to have an ongoing learning and relaxing space. 
Environmental Outcomes:
By using native plants suitable to the area, the school has provided additional habitat for the wildlife that frequents the school grounds.  Mulching around the trees along the trail has improved the underlying soil quality which has improved the health of the trees, again increasing the number of habitats. 
Ezra, one of the students, said, "My favourite part was shovelling the mulch into the wheelbarrow." 
Educational Outcomes: 
Through involvement in this project, students have learned about the need for planting native trees to cope with the harsh climatic conditions which are experienced at times.  The trail provides an ongoing learning space for students, staff and community members. 
By constructing a chatting circle under the boughs of the school's already established fig trees,   classes and/ or individuals now have a relaxing space to learn and contemplate.  
Conclusion:
The Yarning Circle provides a peaceful area for learning as well for social and interactions and wellbeing.  By ongoing care of the trail, the students are learning of how to sustain the trees which benefits the school community. 
"This project has allowed us to open up a safe outside learning area to all of our school students and visiting community groups." (Margie Grant- HPE Teacher)