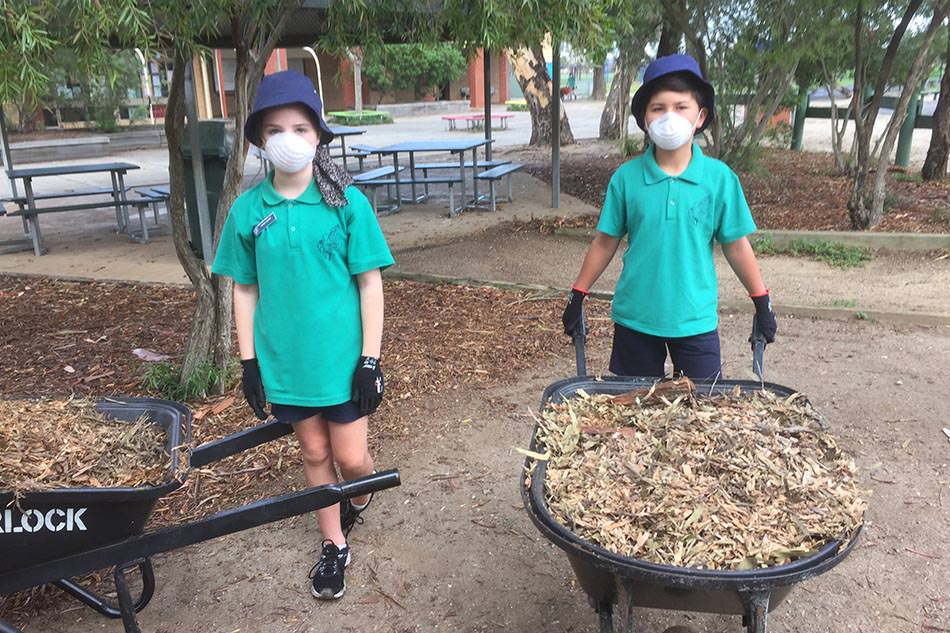 Grant Name: 2019 Woolworths Junior Landcare Grants
School: Altona Green Primary School (VIC)
Grant Sponsor: Woolworths
Project Overview:
Altona Green Primary School, located in Melbourne's southwest, wanted to rejuvenate the school grounds with their Bush Tucker and Rejuvenation project. The project goals were to teach students about indigenous culture and provide a starting point for creating more sustainable and biodiverse gardens in the school grounds.
Armed with a Woolworths Junior Landcare Grant, Year 6 students and local volunteers commenced the project by improving the soil with compost made at the school and donated mulch.
Junior students planted seeds for low growing natives in preparation for planting once school resumed in 2020. Planting the bulk of the garden was delayed due to COVID-19 with Melbourne-area students learning remotely from home. When students went back to school in Term 4 2020, the planting was completed.
Environmental Outcomes:
The new garden area has improved the amenity of the school grounds immensely due to the soil improvements, mulching and new plantings. In time, these new plants will offer food and habitats to a range of birds, insects and other small animals.
The plants will provide the school with a living resource that will contribute enormously to the kitchen garden program and the school community.
Educational Outcomes:
As the Bush Tucker Garden develops, it is providing an opportunity for the children to explore and experience how Aboriginal people grew, harvested and prepared food.
The children are also learning the importance of native plants providing a food source and shelter for birds and insects
The students particularly loved planting and watering in the new plants. Mulching and composting was another activity enjoyed by all. The children also participated in painting garden stakes and decorating a barrier fence with bush tucker symbols and this was possibly the most fun and definitely the messiest!
The COVID-19 pandemic presented an opportunity for the teacher overseeing the project to use her time to further read and research the many plants used by Aboriginal people for food, medicine, baskets and implements. She is writing a resource booklet that will be used in the future at the school in garden classes
Conclusion:
"It's been wonderful to receive a grant that promotes indigenous culture and provides a starting point for creating more sustainable and biodiverse gardens in the school grounds," said the Altona Green Primary School Teacher who managed this wonderful project.