Bush tucker kitchen garden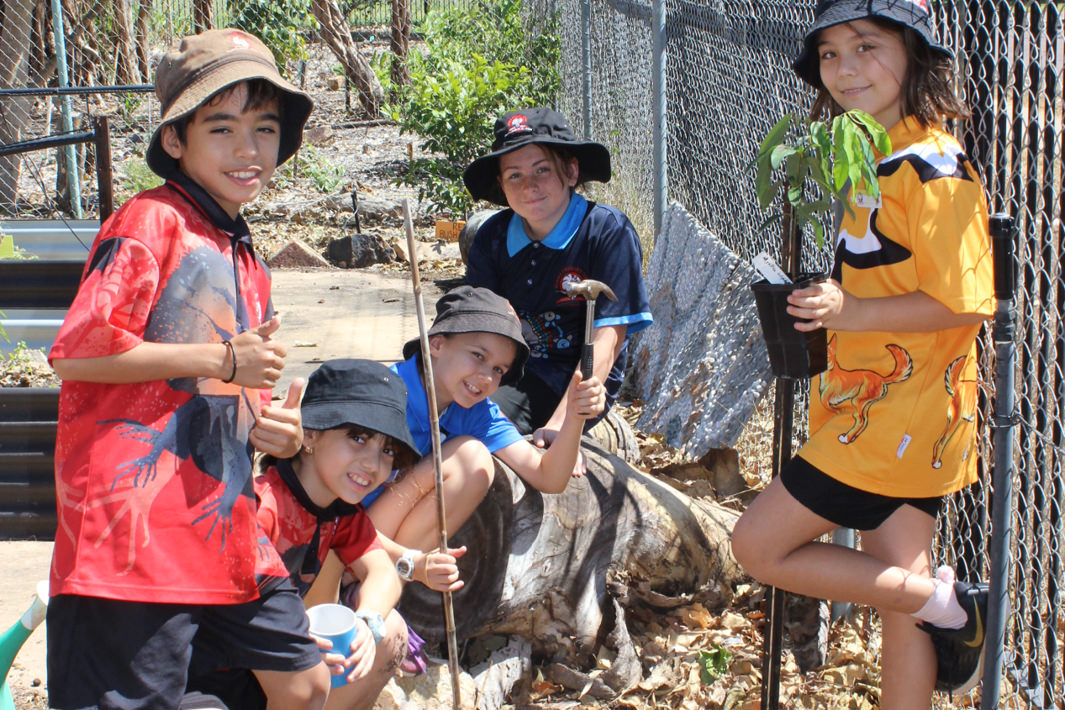 Grant Name: 2018 Woolworths Junior Landcare Grants
School: Alawa Primary School
Grant Sponsor: Woolworths
Project Overview: 
Located in the northern suburbs of Darwin in the Northern Territory, Alawa Primary School has helped to increase biodiversity in its environment. To help them achieve this, the school applied for, and received, a 2018 Woolworths Junior Landcare Grant. 
Next, the school embarked on their bush tucker kitchen garden project.
Children at Alawa Public School researched, planned and planted native plants. These now provide habitat and food for a range of species – including themselves! They enjoyed the experience of new tastes and unfamiliar looking plants, and learnt how the local Larrakia people would have used these tasty treats. The bush tucker garden was a great addition to their existing school farm and the food they already produce for the school kitchen.
Alawa Primary School used the bush tucker project to immerse the children in a range of curriculum related activities and experiences. Students also gained an appreciation for the importance of sustainability – whilst the study of Aboriginal and Torres Strait Islander Histories and Cultures was incorporated across the whole curriculum.
Environmental Outcomes 
More bees, butterflies, frogs and birds were attracted by the Alawa Primary School bush tucker garden. By increasing habitat and providing an appropriate source of food, the students made their kitchen garden appealing to a wider range of species. 
The school will also be able to conserve more water in the long-term, as sustaining native plants generally requires less water.
The bush tucker garden has also added to the existing produce from the school's farm and kitchen garden. This has provided the school with an increasingly diverse harvest.
Educational Outcomes 
The bush tucker kitchen garden project provided learning opportunities in sustainability, biology, research, design and technology, community relations, and health. It also connected the children to local indigenous knowledge of bush tucker origins, uses and benefits – such as for medicine or food – and encouraged them to taste and appreciate produce they were unfamiliar with.
Alawa students learnt that sustainability impacts the eco-systems we all depend on for our well-being and survival – and how all living things are connected by these systems. They discovered the importance of rehabilitating land damaged by introduced species, by supporting native plants and animals. They also saw how sustainable food sources provide longevity and surety.
The children applied their research skills to finding out more about the plants and their varying needs – such as water, sun (position) and fertiliser. Planning out the bush tucker garden called on their design and technology skills. Together, they designed and created a digital map of the native garden. This took into consideration those important factors: sun, soil type and irrigation. Using the more advanced technology of a solar powered filter, they were able to filter and aerate a pond to encourage native frogs and discourage cane toads, which are pests.
The bush tucker kitchen garden project helped strengthen community ties within and without the school. The bush tucker produce is intended to become part of the market stall program run by students: providing freshly grown produce to the wider community. The school also plans to bring in local bush tucker experts, to share their knowledge of the traditional uses of a variety of plants in foods and medicines.
Students are more aware now of the impact of food on their health. They understand the importance of knowing the origins of their food, and the long-term health benefits of naturally sourced fruits and nuts. Accessing this knowledge and these experiences has led to plenty of outdoor activity for the children, another boost to their physical, emotional and mental well-being.
Conclusion
Students at Alawa Primary School enjoyed the opportunity to learn about different types of plants and their uses. They were also interested in the idea that so many of the native plants could be eaten.
"I love when we get to add new and exciting things to the farm. We get to try new foods and we get to learn about fun things that we don't learn in our normal lessons. The farm and kitchen are one of my favourite classes", Year 4/5 Student.