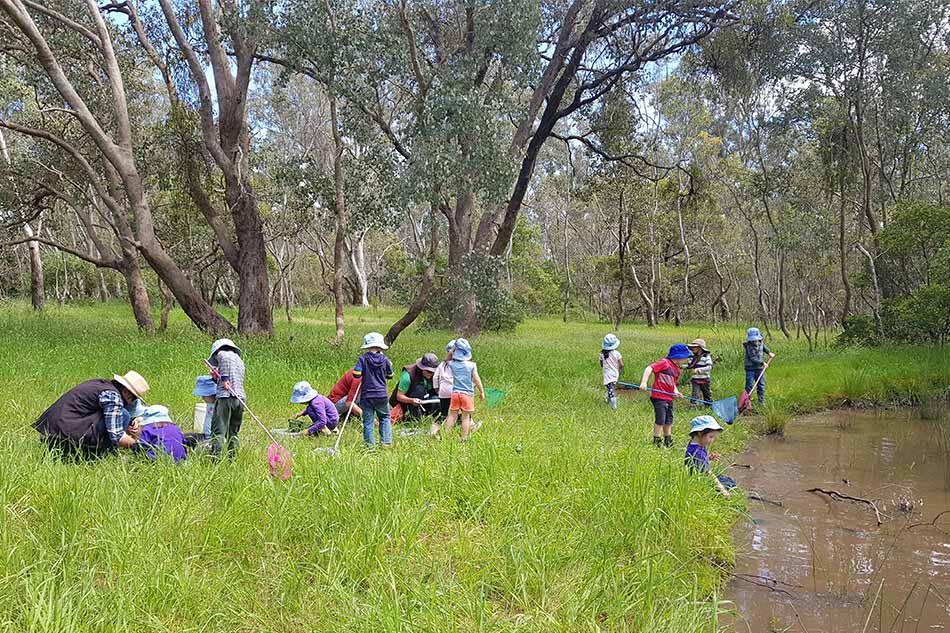 Alexandra Kindergarten students explore bugs at McKenzie Reserve.
Age Group:
0-7
Grant Name:
2020 Victorian Junior Landcare and Biodiversity Grants
School:
Alexandra Kindergarten
Grant Sponsor:
Department of Environment, Land, Water and Planning
Project Overview:
Inspired by Joan Semmens illustrated book on McKenzie's Flora Reserve in Alexandra, "Bush Seasons", Alexandra Kindergarten undertook a project called Observe and Interact with the Bush Seasons.
The Bush Kinder, located in north-east Victoria, hosted four sessions with guest presenters to teach the children about topics ranging from fauna and nest boxes, wildflowers and pollinators, and bugs. They also explored local Indigenous perspectives through a bush tucker session with a local Traditional Owner.
The project was designed to instil a respect, curiosity and value in the biodiversity of the local native environment by engaging the young participants to interact and observe it throughout the changing seasons.
Educational Outcomes
Through the variety of hands-on presentations, students learnt about biological sciences; personal, social and community health, and Aboriginal cultural heritage. The children heard about many different aspects of the natural environment from local experts, and how the traditional owners used different species. The sessions also covered why the environment is important for the children and their families to connect with nature.
Environmental Outcomes
One of the education sessions took place at McKenzie Reserve, where the 46 students learnt from local naturalist, Ron Litjens, who showed them a variety of local insects, including beetles and witchetty grubs. The four sessions improved the children's understanding of the natural environment and why it is important to protect and observe not only the living species but their habitats as well.
Conclusion
Through hands-on learning experiences with local experts, the Bush Kinder students gained a new level of knowledge on their local natural environment, the species that exist within in, and the importance of protecting and supporting its biodiversity.