Bush, Bees & Green Magpies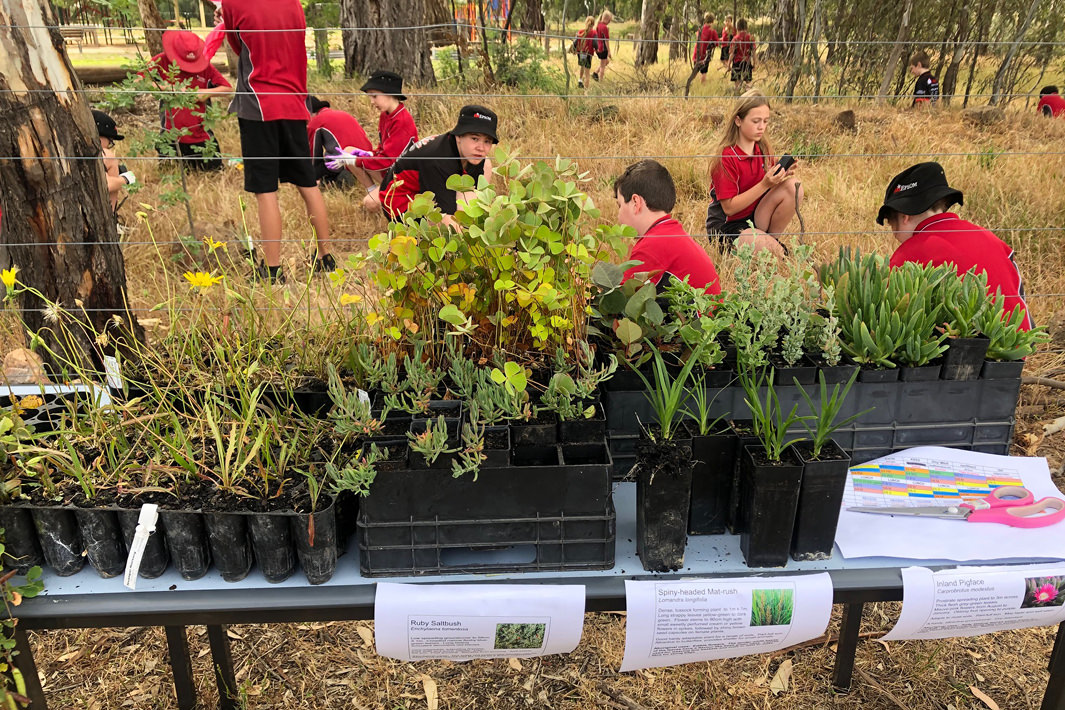 Grant Name: 2019 Bushmans Junior Landcare Grants
School: Epsom Public school, Victoria
Project Overview:
When the Victorian Department of Education and Training purchased extra land for Epsom Public School's growing student population, the school's principal declared that the land be used for educational purposes like learning more about indigenous history, land and species native to the local area.
Populated with trees, fallen logs and an old creek bed, the area was ideal for a native playground and outdoor classroom.  To help do this, the school's Green Magpies Sustainability Group was eager to populate the area with native, drought tolerant plants to create a bush tucker garden and then build bee hotels so that solitary bees (not the ones that make honey) would have somewhere to live whilst pollinating the bush tucker garden.
In late 2019, Epsom Public School, located in a Bendigo suburb, was one of 16 primary schools in regional areas of Victoria, South Australia, Queensland and New South Wales to receive a Bushmans Junior Landcare Grant.  The successful grant projects focused on water conservation.
Environmental Outcomes
This grant enabled Epsom Public School to make 12 bee hotels and plant over 400 seedlings. They had no idea that they would receive so many seedlings from their local native nursery, within the budget.
The teacher managing the projects said, "I think the nursery owner gave us so many more plants because he was rapt with the project and what we were trying to achieve."
The bee hotels provide a stimulating space for both bees and insects. Many students had never planted a plant before, so this process taught those valuable skills and knowledge.  "I have never planted a plant before today, it was rad," said Jada, a student who participated.
The project forced the school to devise a plan for watering. They hired a Ditch Witch machine to construct a trench.  The school's maintenance man then laid lap poly pipe and hooked it up to existing water. There are now two taps to water the plants. A newly creating watering club is responsible for watering the plants ongoing.
Educational Outcomes
Teachers we were able to use areas within the Victorian Curriculum Cross Curricula (Sustainability + Indigenous) to teach the students the theory behind the importance of bees to our habitat and indigenous plants native to the local area.
Prior to this project, the 170 participating students had very little knowledge about Indigenous customs and uses for plants.  For example, they did not know that 'pig face' can be used for sore throats as well as eaten.
The students are now passionate and so respectful of the space. With a growing number of students from Aboriginal and Torres Strait Islander backgrounds, it was important for them to know the rest of the student body respects, acknowledges and understands the importance of their land that we live on.
Conclusion
According to one of the teachers, the students' favourite aspect was the banging of the hammers to put their bee hotels together.  She said, "But they also love watering their plants. They are very keen for their plants to survive in the hot weather and to get them established. "