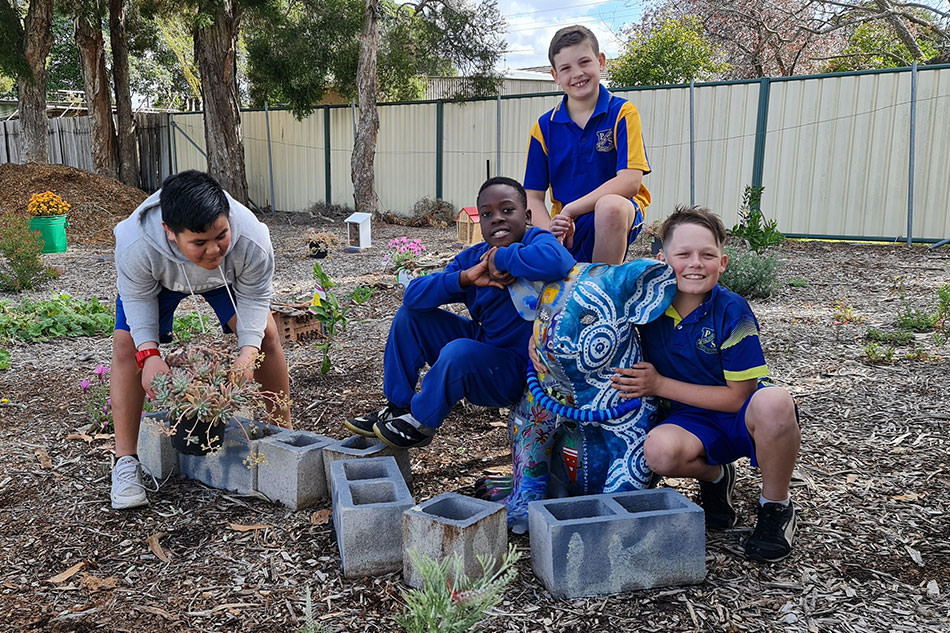 Grant Name: 2019 Woolworths Junior Landcare Grants
School: Oxley Park Public School
Grant Sponsor: Woolworths
Project Overview:
Oxley Park Public School's enrolments increased over the past few years, resulting in the installation of seven new demountable classrooms. As a result, the school, located in Sydney's west, lost several established garden areas, including a number mature trees previously inhabited by owls, magpies and other local wildlife.
The school was successful with its application for a 2019 Woolworths Junior Landcare Grant that funded their 'Bringing Back the Buzz' project to re-establish green habitat areas around the school, particularly next to the newly placed demountable classrooms.
Over six months, the Enviro Committee, stage 3 students and other students, teachers and parents, collaborated on planning the project, designing the layout, ordering plants, building fencing, laying pavers, building a brick snake planter, planting two lots of plant orders and maintaining the garden.
Environmental Outcomes:
The plot of land marked out for this project was previously home to a group of mature trees that housed owls, magpies, crows and other critters as well as provided shade for students on the playground. When the new demountable classrooms arrived, those trees had to be removed.
Students were upset at the loss of the owls and reduction in bird-life. The grant funding enabled the school to regenerate the area by planting citruses and other floral shrubs, saplings and plants to attract bees and bird-life.
The students have built bee hotels, repurposed bricks and old XO laptops to construct shelter by wedging twigs, sticks and paper bark to create attractive hidey-holes for insects. They used worm-juice from the school's worm farms to provide nutrients to the developing trees and to improve the soil quality.
To ensure the garden thrives, stage 3 students have rostered themselves onto watering and weeding duty.
Educational Outcomes:
Teachers aligned the project missions against Science syllabus outcomes in 'Living World' whilst also attending to Aboriginal cross-curriculum priorities. Students researched matters of sustainability and participated in projects such as collecting worm-juice to feed the new plants and re-purposing disused bricks and XO laptops to create insect-home structures.
Students touched on Biology when researching species of local bird-life, insects they wanted to attract and the needs of these creatures.
Our school's Aboriginal Community Liaison Officer helped develop student knowledge around types of plants to attract different insect-life, birds and critters and contributed seedlings and saplings from our Koori Garden
Conclusion:
The teacher overseeing Oxley Park School's Woolworths Junior Landcare project says, "This habitat garden rejuvenation project represents our ongoing desire to ensure the valuable green corridors within our vast school grounds are maintained and valued throughout this period of rapid growth and development that is occurring within our suburb.
"We wish to remain an attractive place called home for the local owls, crows, magpies, plovers, lorikeets and myriad other bird species and to tread lightly on the Darug land on which our school is built and respect and return life wherever possible."
Video:
The students are proud of their achievements and even made a video about their journey to creating this fantastic garden.  Watch now