Blue-banded Bee Resilience Pilot Project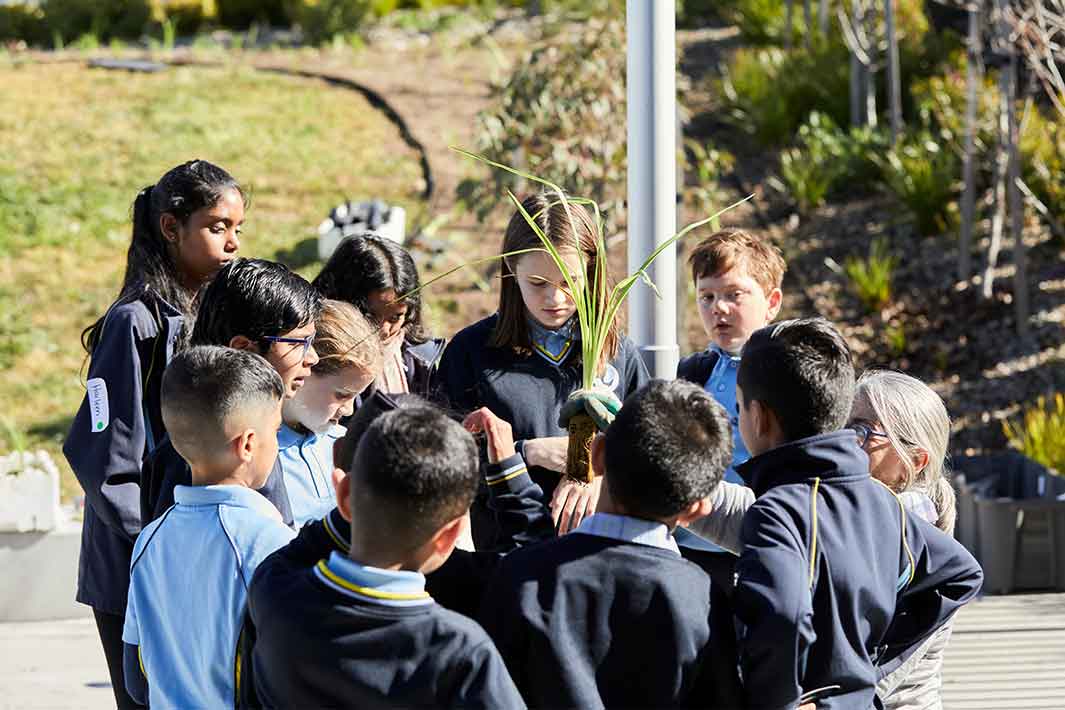 Grant Name: Junior Landcare Resilience Project
School: Edgars Creek Primary School
Project overview:
Edgars Creek Primary School students spent the morning participating in the Junior Landcare Resilience program through the Blue-banded Bee Resilience Pilot Project held at the school in Wollert.
In partnership with Lendlease and their master planned community Aurora, the project was a first between Lendlease and Landcare Australia.
Aimed at improving wellbeing and resilience in response to natural disasters such as drought, flood or fire, as well as the challenges brought about by a global pandemic, 33 children and staff were immersed in a morning of activities guided by the principles of BEING, DOING and CREATING.
"The Junior Landcare Resilience workshop program uses a holistic approach to enhance learning, appreciation and understanding of the environment to create a stronger connection to place and improve mental health and wellbeing," explained Angela Snowdon, Landcare Australia Environmental Grants and Volunteering Program Manager.
Educational outcomes:
From yoga activities (BEING) to develop mindfulness and movement to encourage physical resilience, to planning out and planting a blue banded bee garden (DOING) to encourage team work and decision-making, and creating cultural art (CREATING) to develop connections to culture and country the morning brought together students and partners to inspire what we hope will be ongoing activities at the school.
Merri Creek Management Committee was also on hand to provide the students with plant education, with connections made between the resilience of nature and the resilience of humans throughout the morning.
For the CREATING element of the program, artist Tinika Clifford worked with students to learn about culture and create a Rainbow Serpent from hay and wool and contribute to an artwork on a large canvas.
Environmental outcomes:
Three hundred plants were planted at the front of the school to create habitat for the blue-banded bee. Plants selected for the project were local indigenous plants, suitable for the native blue-banded bees.
Students learnt about what plants are native to the local area, and how to successfully care for and plant them. Students were active and involved in conversations on how to build connection with the land, create habitat and learnt about the history of the land.
Conclusion:
By creating an outdoor space with students for students, the school is now looking forward to harnessing the garden and activities learnt to encourage deeper connections with First Nations perspectives and the local environment for long-term resilience building among its students.
"It is important for us that our school and students celebrate the rich cultural heritage of the area and the significant local flora and fauna," said Ann Turner-Calleri, Principal of Edgars Creek Primary School.
"To create places where communities thrive is the purpose of our work at Lendlease and we are happy to be partnering with Landcare Australia to lay the foundations for a beautiful space where outdoor learning and resilience can flourish," added Edmund McCombs, Head of Social Impact, Lendlease.