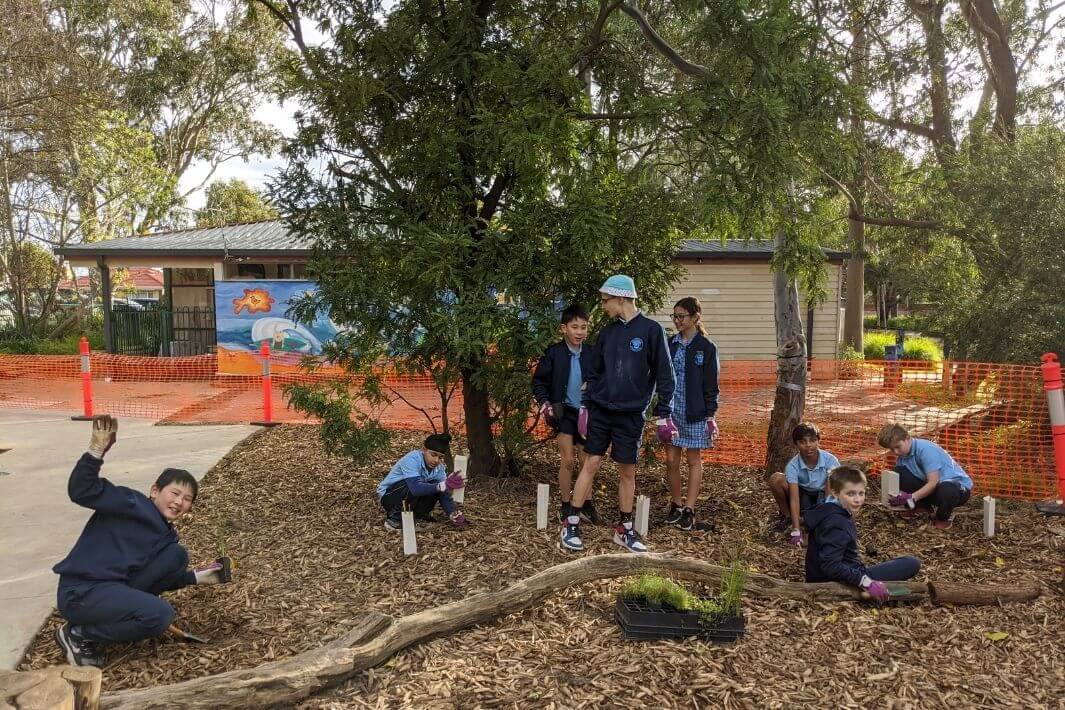 Grant Name: 2019 Victorian Junior Landcare and Biodiversity Grants
School: East Bentleigh Primary School
Grant Sponsor: Department of Energy, Environment and Climate Action
Project Overview
With funding from a 2019 Victorian Junior Landcare and Biodiversity Grant, East Bentleigh Primary School undertook a project to enhance biodiversity by connecting its school garden with an adjoining golf club's reserve. 400 students were involved in the impressive project, which included signage for three local Ecological Vegetation Classes (EVC) and habitat box construction. 
 Despite immense challenges from Covid-19 lockdowns, 2,250 plants were put in the ground, and are thriving. 
 Educational Outcomes  
Students learnt about a range of environmental topics during the planting activities, including soil health and water conservation. They also learnt about the interconnectedness of species, how the habits and preferred conditions of species vary, and how to go about selecting the best places for optimal growth
The local Boonwurrung traditional custodians of the land taught the students about the different resources the Indigenous plants were traditionally used for. They also made digging sticks from existing Kunzea on the site, and used them for planting.  
Environmental Outcomes  
This project created more habitat for the area's Indigenous wildlife so it can connect to local wetlands and bushland in the adjoining golf course, Karkarook park, Braeside Park and ultimately, Port Phillip Bay. Through increasing biodiversity in urban environments, and ensuring there are links between reserves and wetlands, our Indigenous wildlife has a greater chance of survival.  
Community/Social Outcomes 
Families and locals walking by stopped to admire and talk about the plantings. The school also connected with the adjacent kindergarten, Taraleigh, and their garden, passing on information about hearing a resident Eastern Froglet croaking for months during winter lockdown, which excited the community. 
Conclusion 
This significant biodiversity project achieved great outcomes for Indigenous flora and fauna, as well as providing a meaningful and hands-on learning experience for the 400 students involved. 
Photo at top: East Bentleigh Primary School students create impressive biodiversity corridor, increasing wildlife habitat, and connecting with local communities.