A new buzz in the playground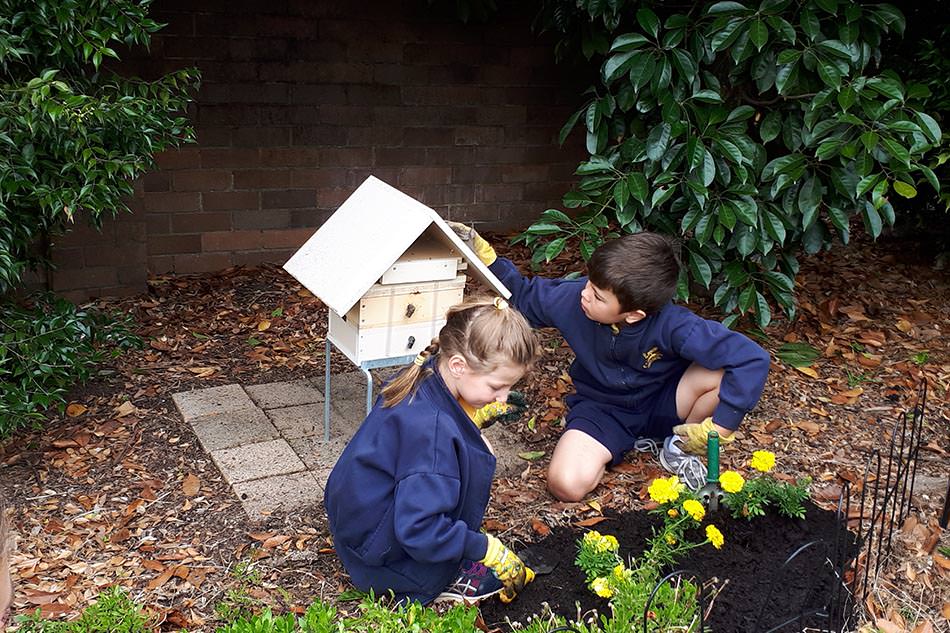 Grant Name: 2019 Woolworths Junior Landcare Grants
School: St Martin's Primary School, Davidson, NSW
Grant Sponsor: Woolworths
Project Overview:
In late 2019, with construction of its new playground nearing completion, St Martin's Primary School in the Sydney suburb of Davidson wanted to install a native beehive with stingless bees, along with complimentary planting to encourage and enhance biodiversity in their new playground/garden space.
They applied for Woolworths Junior Landcare Grant and were successful in obtaining funding for the school's 'A new buzz in the playground' project.
Environmental Outcomes:
The stingless bees have been busy pollinating the school's garden that is now thriving.
Biodiversity on the school grounds is being supported by the habitats that the thriving garden provides for bugs, insects, lizards and birds. The students' curiosity is stimulated as they share their play space with all of these creatures.
Homes surrounding the school are also benefitting as the bees fly up to 500 metres from the hive, so are helping to pollinate neighbouring gardens.
Educational Outcomes:
Students were involved in the installation of the hive, selecting and planting compatible shrubs and ongoing observation of the hive to ensure its inhabitants thrive in their new home. The children worked hard to create and maintain animal habitats by planting and growing suitable plants throughout the playground.
The bees have supported learning about animal life cycles, habitats and the role of pollinators in food production. Having the hive situated in the playground has enabled students to observe them day to day, encouraging young citizen scientists that understand and appreciate the important role bees play in our world.
Conclusion:
The teacher overseeing the project said, "The school's native bees enable our students to safely explore, learn and experience close-up the fascinating behaviours of native bees. Students also develop an awareness of the impact of human activity on the environment and the interdependence of living things.
"Having stingless bees has been a fantastic living science project helping us teach the children about the life cycle of bees and the importance of pollination for fresh food production and how environmental conditions can impact the bees' productivity."
See this project in action -