2018 Woolworths Junior Landcare Grants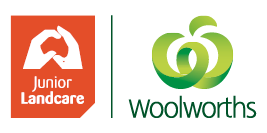 Grant:
2018 Woolworths Junior Landcare Grants
Applications Closed:
24 November 2018
In March 2018, 538 Australian primary schools and early learning centres received up to $1,000 each to get hands-on with environmental projects as the recipients of the first round of our Woolworths Junior Landcare Grants program.
In total, up to half a million dollars was given out to support projects focusing on sustainable food production, improving waste management and enhancing native habitats.
The grant recipients completed their projects at the end of 2019, with lots of fantastic results reported. Below are case studies for some of these completed projects, including environmental and educational outcomes, just click and read.
You can view summaries and photos of all 538 environmental projects undertaken across Australia by the first Woolworths Junior Landcare Grant recipients as well as the second round of recipients on our interactive map.
The Woolworths Junior Landcare Grants program is funded from 10 cents from the sale of each Bag for good™. The bag was launched when the supermarket removed single-use plastic shopping bags across all stores nationwide.